We've finally identified the nerve cells in the clitoris and penis that respond to vibration
A new study in mice shows that Krause corpuscles are specialized to respond to vibration and light touch, and are key to normal sexual behavior.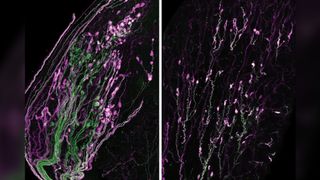 (Image credit: Lijun Qi and Michael Iskols)
Scientists have pinpointed the nerve cells that respond to vibration and light touch in the clitoris and penis — at least in mice.
The new study also found that the ability of these neurons to respond to both light touch and vibration may be key to normal sexual function.
"Our study is the beginning of answering the 160-year-old question about the…function of Krause corpuscles of the genitalia," study lead author Lijun Qi, a doctoral candidate at Harvard Medical School, told Live Science in an email.
Krause corpuscles, first described by German anatomist Wilhelm Krause in 1860, are specialized sensory receptors in the skin and mucous membranes, such as those in the genitalia, lips, tongue and conjunctiva of the eye. In the penis and clitoris, they are ovoid or cylindrical in shape and contain coiled nerves or simple nerve endings. Although scientists have mapped the structure of these sensors, their precise function has remained a mystery, with some scientists believing they sense cold temperatures.
Related story: Why do women have orgasms?
To unravel this long-standing puzzle, doctoral candidate Lijun Qi and his colleagues at Harvard Medical School measured the number of female and male Krause corpuscles, also known as Krause end bulbs, across the entire genital tissue in mice. The number of clitoral and penile Krause corpuscles was similar, with a 15-fold higher density of corpuscles in the clitoris than in the penis. The neurons found in mice were structurally similar to those found in humans.
The study demonstrates, for the first time, that these cells are rapidly adapting, exquisitely sensitive sensors that fire in response to even weak mechanical stimulation. The researchers found that, in mice, two distinct types of fast-conducting sensory neurons supplying the Krause corpuscles in the clitoris or penis fired in response to light touch by brushing and to mechanical vibrations at 40 to 80 Hertz.
One of the two types of Krause corpuscle nerves did not respond to temperature changes. The team is currently testing the temperature sensitivity of the other type of Krause corpuscle neuron.
These sensory neurons feed into a unique region of the spinal cord that lies close to the spinal ejaculation center.
To test whether Krause corpuscles contribute to sexual behavior, the researchers genetically engineered the mice so that the neurons fired when activated by laser light pulses. The light pulses activated one type of nerve and caused penile erection. And when the corpuscles were genetically altered to be less functional, male mice did not engage in intercourse or ejaculate, while females stopped seeking or being receptive to sex.
The new study "represents a breakthrough" in the field, José A. Vega, a professor in the Department of Morphology and Cell Biology at the University of Oviedo, Spain, who wasn't involved in the research, told Live Science in an email. It's also interesting that they used "so many techniques and approaches" to elucidate the function of these specialized structures. "The electrophysiological and behavioral experiments are original and new," he added.
Strikingly, the frequencies that the nerve cells were primed to respond to were similar to those used in genital vibrators — medical devices intended for therapeutic use in sexual dysfunction in both women and men.
Still, it's important to be cautious when translating the findings to humans and tying these nerve cells to sexual behavior, Vega said. "I would say that they are linked to mating reflexes not sexual behavior," Vega added. "The role of the brain in all human sexual behaviors should not be forgotten."
As follow-up work, Qi and his colleagues now hope to determine how female mice respond when their clitorises are activated with laser light.
The findings were posted June 15 to the preprint database bioRxiv, but have not yet been peer-reviewed.
Stay up to date on the latest science news by signing up for our Essentials newsletter.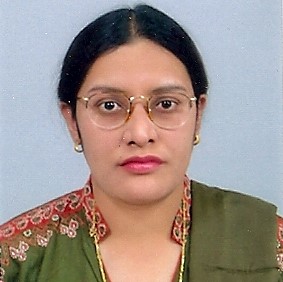 Dr. Alakananda Dasgupta is a freelance science journalist based in New Delhi, India. Her work has appeared in New Scientist, The Scientist, and AGU's Eos, among others. She is a medical doctor and a pathologist by training and has previously done research in the fields of immunology, cancer and tuberculosis. Her love for science and writing led her to become a science writer. She has written on health, climate change, astrophysics, genealogy and a host of other themes. Besides writing, she enjoys painting, reading widely, traveling and listening to music.