These discounted smart bathroom scales are less than $50 right now
Save 38% on the Eufy P2 Pro smart scales to track 16 measurements, sync your data to Apple Health or Google Fit, and track your pet or baby's progress.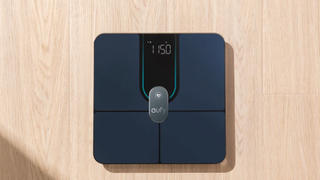 (Image credit: Eufy)
Gone are the days when your bathroom scales would only measure your weight. Smart scales can monitor your body composition and heart health too, and you don't have to break the bank either, as you can pick up the Eufy P2 Pro Smart Scale for just $50 right now at Amazon.
Even at the regular price, it's easy to see why many think it's one of the best smart scales around; you can set up profiles for all the family, the scales are IPX5-rated for water resistance, and the data can sync to Apple Health, Google Fit, and your Fitbit account.
Impressively, the scale even has a pet mode, so you can hold your dog or cat, step onto the plate to measure, and track their progress over time. Despite the feature-packed design, the app generates a 3D model of your body based on your data that not everyone will enjoy.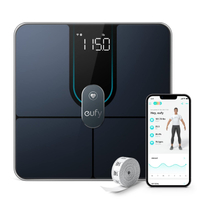 Overview: The Eufy P2 Pro is a budget-friendly way to track fitness progress and monitor weight for the whole family. The scales take 16 body measurements, have a pet and baby mode, and keep tabs on your resting heart rate, an important health indicator.
Price comparison: $49.99 at Amazon | $49.99 at Eufy
Price history: This is the first time we've seen a discount on the P2 Pro scales since they launched in late 2021. The savings are automatically applied on Amazon, but you need to use the code 'WS24T9149111PD' on Eufy's store.
T3: ★★★★ | TechRadar: ★★★★ | Fit&Well: ★★★½
Key features:
Size: 27.99 x 27.99 x 2.29 cm / 11.02 x 11.02 x 0.9 inches
Connectivity: Bluetooth, Wi-Fi
Max users: Unlimited
Max weight: 396lbs
Power: 4 x AAA batteries
Stats: Weight, body fat, BMI, muscle & bone mass, water, protein, heart rate
Buy it if: The water-resistant scales are easy to store, track an impressive range of stats for the price, and support an unlimited number of users, making them great for busy households. The data syncs by Bluetooth or Wi-Fi, so you don't need to have your phone to hand in the bathroom.
Don't buy it if: Although the data syncs to well-known platforms like Apple Health and Google Fit, if you use Withings smartwatches or blood pressure monitors, you'll get a more integrated experience and your stats all in one place with the Withings Body smart scale instead.
Stay up to date on the latest science news by signing up for our Essentials newsletter.
James is a Staff Writer for Live Science's sister site, Fit&Well. Before joining Future in 2021, he was the Buyer's Guide Editor and a Senior Staff Writer for the consumer technology website MakeUseOf and has bylines at Blocks Decoded, Lifewire, and Happiness.
He regularly tests out fitness equipment, including smartwatches, headphones, and writes about affordable ways to improve your health and wellbeing. James studied Mechanical Engineering at the University of Surrey, which is where he learned about the fundamentals of thermodynamics, fluid mechanics, and material design.