Best science kits for kids 2023: Fun experiments for children of all ages
Science made fun! Spark your kids' excitement for science with the help of the best science kits for kids.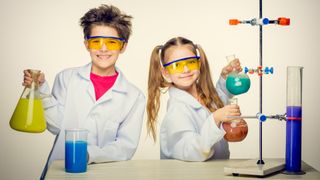 (Image credit: master1305 via Getty Images)
Looking for a surefire way to fuel your child's curiosity and creativity? Look no further! These captivating science kits are about to become your family's new favorite learning adventure.
Plus, they're backed by science! Studies show that hands-on learning fuels a thirst for knowledge. Since 2005, researchers from the Journal of Science Education and Technology have encouraged parents of elementary-age children to integrate the best science kits for kids into playtime. They not only help them lean into this curiosity but also give them the tools they need to learn independently.
But that's not all! It sparks creativity, sharpens critical thinking, and hones problem-solving skills. These are life skills that'll surely come in handy.
Now, the big question: which science kit should you choose for your budding scientist? Fear not! Our guide to the best science kits for kids has got you covered. We've scoured the web for kits tailored to different ages, scientific fields, and budgets. Pick the ideal kit for your kid and unleash their boundless curiosity.
For more kits to encourage a lifelong habit of learning, check out our guides to the best chemistry sets and best coding toys that can help you expand your young scientist's interests.
The Quick List
Load the next 6 products...
---
Best science kits for kids
1. Smithsonian Mega Science Lab
Reasons to buy
+
Activities from different areas of science
+
Contains all materials required (excluding common household items)
Reasons to avoid
-
Crystal-growing activity is a multi-day project
-
Only 6 experiments
Building an erupting volcano, digging for dinosaur bones, building your own weather station or bug habitat, or growing crystals - the Smithsonian Mega Science Lab kit has it all! If your children would like to get a glimpse into different science fields, this kit is the way to go. In six activities, your kids will get introduced to diverse scientific fields ranging from physics and chemistry to earth and environmental science.
The kit comes with various tools and materials, including a thermometer for the weather station, a bug collecting tool, safety glasses and tools for fossil digging. You will need to supply only common household items like vinegar or baking soda.
---
2. National Geographic Mega Gemstone & Fossil Dig Kit
Specifications
Brand:
National Geographic
Number of experiments:
10 fossils and 10 gems to dig out
Reasons to buy
+
Contains genuine fossils and gems
+
Has an accompanying informative learning guide
Reasons to avoid
-
Can get messy
-
Tiny fossils are easy to miss in the dig brick
Is your kid excited about fossils and gems? Then this is the perfect kit for your little Earth scientist. The National Geographic Mega Gemstone & Fossil Dig Kit contains a large dig brick with genuine gems and fossils hidden inside. Your child will excavate gems like tiger's eye, pyrite, and blue quartz, or fossils from clams, corals, and even sharks.
All necessary tools for the excavation are provided: a chisel, brush, and magnifying glass. After the excavation, your explorers can learn all about their new treasures using the learning guide included in the kit which contains additional information about each of the specimens.
---
3. Einstein Box Ultimate Science Kit
Specifications
Number of experiments:
40
Reasons to buy
+
Easy-to-follow instructions
+
Minimal to no assistance from parents required
Reasons to avoid
-
Contains instructions for 40 experiments, but there's only material for 15
With this Einstein Box, your kid will dive into the fascinating world of chemistry and material science. Fizzy magic potions, color changing liquids, fragrant soaps or self-grown crystals - the engaging and colorful experiments will help your children understand the basic principles of science. The instructions are straight-forward and easy to follow, so that your kids will be able to do the experiments all by themselves. Lean back and let your little chemists explore!
The kit includes the materials necessary for 15 experiments. The manual includes instructions for another 25 experiments, which you can easily do with household items.
---
4. National Geographic Stunning Science Chemistry Set
Specifications
Brand:
National Geographic
Number of experiments:
45
Reasons to buy
+
Simple instructions
+
Provides background information to understand the chemical reactions
Reasons to avoid
-
Only contains material for 15 out of the 45 experiments
-
Requires adult supervision as there are some mild chemicals involved
Building an erupting volcano, launching a rocket, making pop crystal fireworks, causing colorful and fizzy chemical reactions - this kit will give your kids the chance to discover the fascinating world of chemistry.
The kit includes the materials needed for 15 experiments with instructions for an additional 30 experiments, all using common household items like baking soda or vinegar. The experiment guide contains illustrated, step-by-step instructions that are easy to understand and follow. Your kid will conduct their own experiments, just like a real scientist! The guide also includes details about the chemical reactions, so that your little scientists will spend hours experimenting and learning about chemistry. However, we do recommend that these are done with adult supervision as chemicals are involved.
---
5. AmScope Kids Beginner Microscope
Specifications
Number of experiments:
10 prepared slides, plus reusable blank slides
Reasons to buy
+
6 adjustable magnifications
+
Comes with all necessary tools for setting up your microscopy experiments
+
Contains 10 prepared slides and a complete brine shrimp experiment
Reasons to avoid
-
Focusing the microscope requires a bit of practice and finesse
Let your kids discover the invisible world with this beginner-friendly compound microscope. It offers six adjustable magnifications up to 1200x. The microscope comes in a hard-sided plastic case, making it the ideal portable equipment for your little explorer to carry around. The microscope comes with 49 accessories like tweezers and reusable slides and cover glasses that allow your kid to easily set up their own microscopy experiments.
The kit also contains five prepared microscopy slides, so that your children can immediately get a glimpse of the fine-grained structures of for example a fish scale or a bean leaf. Included in the kit is also an entire brine shrimp experiment allowing your children to observe the life cycle of these ocean creatures. With this kit, your kids will gain hands-on experience with the scientific method: setting up an experiment, analyzing and documenting the outcome. We love this microscope so much that it tops our best microscopes for kids list!
---
6. Thames & Kosmos Ooze Labs Chemistry Station
Specifications
Number of experiments:
20
Reasons to buy
+
A complete science lab station
+
10 instruction cards that can be directly clipped onto the lab station
Reasons to avoid
-
Set up requires adult assistance
Give your children the joy of having their own science lab station, where they can conduct exciting chemistry experiments. The lab station is easy to assemble and reconfigure for different experiments with a helping hand from an adult. The kit contains all materials needed for 20 cool science experiments – invisible ink, self-inflating balloons, glowing slime, rainbow in a test tube, and more! Like a lot of other sets, some experiments will require common household items like scissors, tape, or salt.
Instructions for half of the included experiments are printed on cards that can be directly clipped onto the lab station for quick reference. There's also a 16-page, full-color manual that contains detailed instructions as well as easy-to-understand explanations so that your budding scientists can learn the science behind the experiments and how they apply to everyday life.
---
7. Crystal Growing Experimental Kit
Reasons to buy
+
Everything you need in one kit (no need for extra household items)
+
Comes with display cases to show off the crystals
Reasons to avoid
-
Requires a bit of patience as experiment takes 7-10 days
Show your kids the fascinating world of both geology and chemistry by letting them grow their own crystals. This kit, selected by the University of Cambridge no less, provides all materials needed for seven different crystal growth experiments. Once fully grown, these stunning crystals can then be proudly shown off in the provided display cases. The detailed instructions are easy to follow and the experiments are straightforward to set up.
Adult supervision is required for setting up the experiments as this involves boiling water. The crystals start forming in about five hours after set-up and will reach their full size in 7-10 days. The included fact sheet provides additional information on crystal growth. We really like this one as it provides a beautiful, tangible result that you can admire for years to come.
---
8. Engino Discovering STEM: Mechanics Levers & Linkages
Specifications
Number of experiments:
16
Reasons to buy
+
Learn about mechanics and engineering
+
Includes a quiz to help with learning
+
Free downloadable 3D app
Reasons to avoid
-
Some pieces can be difficult to put together and take apart
-
Requires AA batteries
Teach young minds about the mechanics behind levers and linkages and how they can be used to lift heavy objects with this lovely kit. In 16 hands-on activities your kids will build different structures such as a wheelbarrow, a parking gate, and a movable weight scale.
The step-by-step illustrated instructions are easy to follow. In case these are not enough, you can also view the models in 3D using an app that is freely available for Android and Apple iOS. The kit also comes with a booklet with theory and interesting facts, as well as a detailed quiz to test the newly acquired knowledge.
---
9. Thames & Kosmos Genetics & DNA Lab
Specifications
Number of experiments:
20
Reasons to buy
+
Learn about biological inheritance
+
Isolate DNA in a test tube
Reasons to avoid
-
DNA model is tricky to assemble
Delve into the fascinating world of genetics and DNA. Your kids will isolate the DNA from a tomato, build their own double-stranded DNA model, learn what chromosomes are and experience survival of the fittest by breeding their own bacteria.
The 20 different experiments are detailed in the accompanying 48-page manual, making them accessible and easy to follow along.
---
10. Soap & Bath Bomb Making Kit
Specifications
Number of experiments:
20
Reasons to buy
+
Make your own soaps, bath bombs and bath scrubs
+
Contains all required material
Reasons to avoid
-
Some of the colors are not very vibrant
Get ready for a bath-time extravaganza with this soap and bath bomb making kit. The kit provides all you need for creating 8 soaps, 10 bath bombs and 2 bath scrubs. Mix and match colors, fragrances, and glitters to design unique creations and transform bath time into a truly magical experience.
The kit also includes surprise charms that can be hidden inside the bath bombs for an extra touch of excitement. The accompanying learning guide provides easy-to-follow instructions and enhances the scientific learning experience. With this kit you can let your kid explore the science of soap and bath products.
---
11. Klutz Lego Gear Bots
Reasons to buy
+
Includes everything you need
+
Easy to follow instructions
Reasons to avoid
-
Some of the gear bots share parts, so that they cannot be built simultaneously
Ideal for LEGO enthusiasts and newcomers alike: The Klutz LEGO Gear Bot kit allows your kid to build 8 physics-driven kinetic creatures. From DJ Bubbles, an octopus spinning records, to a pterodactyl and a yeti: Using a combination of LEGO bricks and papercraft, your kid can create awe-inspiring models, also known as automata. And the best part: Cranking the handle on their sides brings them to life!
This kit lets your child discover the world of mechanical engineering through play. The 64-page book provides step-to-step instructions, as well as background information on cams, cranks, axles and their real-life applications.
---
12. Thames & Kosmos Electricity & Magnetism Science Kit
Specifications
Number of experiments:
62
Reasons to buy
+
Easy to follow instructions
Reasons to avoid
-
Some of the pieces require a lot of strength to connect, so adult assistance might be required
We use electricity every day. But how does it actually work? And what does electricity have to two with magnetism? With the experiments in this kit, kids explore these two forces and learn about their applications in everyday life. In over 60 electrifying experiments, kids will build their own series and parallel circuits, lightning up bulbs with the flick of a switch. Also, they will make magnetic fields visible using iron fillings and discover the inner workings of a compass.
Finally, they can apply their newfound knowledge to construct a loudspeaker or a Morse code telegraph key. With a comprehensive 64-page manual providing step-by-step instructions and supplemental information, this kit ensures a captivating learning experience.
All electrical experiments are powered by two AA batteries (not included in the kit), so that they are performed with the low and safe electrical voltage of only 3 Volts.
Stay up to date on the latest science news by signing up for our Essentials newsletter.
Mihaela Bozukova is a science journalist based in Germany. She holds a Ph.D. in molecular and computational biology from the Max Planck Institute for Biology of Ageing and the University of Cologne in Germany. She is passionate about making science accessible to everyone. You'll find her covering a variety of life science topics for outlets such as Massive Science, Laborjournal and Microbites.