One of the longest dino tracks in the world revealed by drought in Texas state park
Drought conditions have revealed well-preserved dinosaur tracks at a state park in Texas.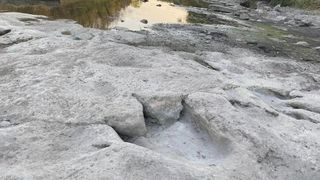 (Image credit: Friends of Dinosaur Valley State Park via Facebook )
An ongoing drought has revealed about 70 dinosaur tracks at Dinosaur Valley State Park in Glen Rose, Texas.
The footprints, which date back about 110 million years, had been hidden under water and mud in the Paluxy River, which cuts through the state park, according to the Chron.com.
Experts think that the tracks, found in what is known as the state park's Ball Room site, belonged to two different species of dinosaurs. The three-toed tracks were likely from the giant carnivore Acrocanthosaurus, while the "elephant-looking" footprints were stomped into the ground by a massive long-necked Sauroposeidon.
Acrocanthosaurus was one of North America's largest predators during the Early Cretaceous period (145 million to 101 million years ago), with a length of about 40 feet (12 meters). Yet the long-necked Sauroposeidon, a genus of sauropod, dwarfed it, stretching approximately 100 feet (30 m) long and weighing a whopping 110,000 pounds (50 metric tons), according to the Natural History Museum in London.
Related: Construction may have damaged 112 million-year-old dinosaur tracks in Utah
One portion in particular, dubbed the "Lone Ranger Track," is believed to be one of the longest dinosaur tracks in the world, according to a video from WKYC Channel 3.
Officials from the Friends of Dinosaur Valley State Park, a nonprofit organization that supports the park, first spotted the tracks on Friday (Aug. 25) and announced that the prints were "the most tracks we have ever seen at this location," according to a Facebook post.
"This is not normal for us, but due to two consecutive years of high temps and drought conditions it has given us the opportunity to uncover new tracks," Paul Baker, retail manager at the Friends of Dinosaur Valley State Park, told the Chron.com. "Once we receive a decent rain most of the tracks will be covered up again."
Members of the Dallas Paleontological Society plan to map and create casts of the tracks for future research purposes, according to the Chron.com.
Stay up to date on the latest science news by signing up for our Essentials newsletter.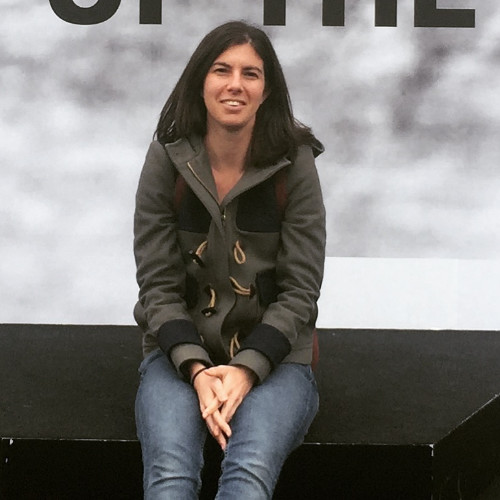 Live Science Staff Writer
Jennifer Nalewicki is a Salt Lake City-based journalist whose work has been featured in The New York Times, Smithsonian Magazine, Scientific American, Popular Mechanics and more. She covers several science topics from planet Earth to paleontology and archaeology to health and culture. Prior to freelancing, Jennifer held an Editor role at Time Inc. Jennifer has a bachelor's degree in Journalism from The University of Texas at Austin.