Florida alligator weighing over 900 pounds could have been 90 years old when caught
The enormous alligator was over 13 feet long and weighed 920 pounds — the second heaviest ever to be caught in Florida.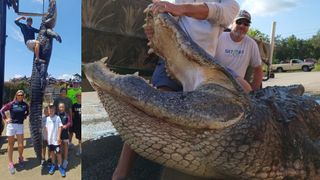 (Image credit: Capt. Kevin Brotz)
A huge alligator weighing almost 1,000 pounds (455 kilograms) has been caught in Florida — the second heaviest in state history. The supersized reptile, which was likely between 60 and 90 years old, measured over 13 feet long (4 meters) when hunters hauled it in on Aug. 26.
U.S. Coast Guard Capt. Kevin Brotz, a hunting guide from Florida Gator Hunting and Get Bit Outdoors, was with friends on a lake near Orlando when they noticed a huge alligator (Alligator mississippiensis) swimming away from them, he told Field and Stream. They spent around four hours battling with the alligator, and at one point it leapt 3 to 4 feet (0.9 to 1.2 m) out of the water. "It looked like a blue whale when it breached," Brotz told the site.
Related: 120-year-old Cassius is pushing limit of crocodile longevity — and he's got 'years to come,' expert says
After pulling the alligator on board, they killed it and took it to shore where it was weighed and measured. It came in at 920 pounds (417 kg) and 13.06 feet. That makes it the second heaviest ever caught in Florida. The heaviest weighed 1,043 pounds (473 kg) and was caught in 1989.
Brotz told Live Science in an email that catching alligators of this size is extremely rare. "I've guided hundreds — if not close to a thousand gator hunts — and this one is absolutely in a league of its own."
Florida is home to an estimated 1.3 million gators. This one was killed as part of Florida's statewide alligator harvest program, which has run since 1998 and helps to keep the population in check.
The hunting season generally runs between August and November. Around 7,000 permits are issued each year, with the Florida Fish and Wildlife Conservation Commission issuing tags that authorize holders to kill two alligators. In 2022, 7,804 alligators were killed as part of the program.
Brotz's catch follows the capture of an 802-pound (364 kg) alligator that was 14 feet and 3 inches (4.34 meters) long — the longest ever caught in Mississippi. This alligator was killed during Mississippi's 10-day alligator hunting season.
Stay up to date on the latest science news by signing up for our Essentials newsletter.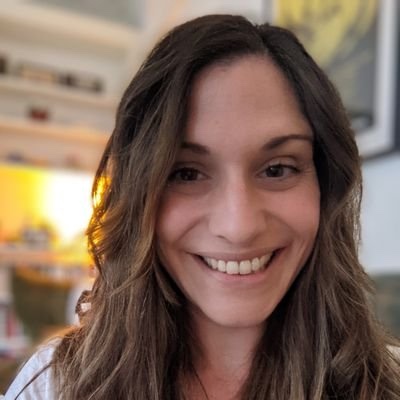 Hannah Osborne is the planet Earth and animals editor at Live Science. Prior to Live Science, she worked for several years at Newsweek as the science editor. Before this she was science editor at International Business Times U.K. Hannah holds a master's in journalism from Goldsmith's, University of London.