Do Pre-Winter Blizzards Signal a Tough Winter?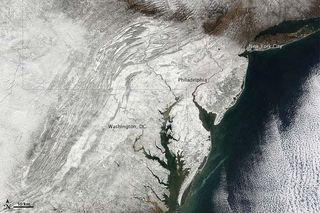 (Image credit: NASA)
Before winter officially arrived this year, severe cold, ice and snowy weather socked much of the United States and Europe, disrupting travel plans and even collapsing the dome on a football stadium in Minneapolis, Minn.
But do these pre-winter blizzards signal a tough winter ahead? The answer, at least for this year, is no — probably.
The early outbreak of winter weather was caused by an atmospheric pattern in the north Atlantic that pushed Canadian air into the United States, and that shouldn't stick around. But because of lingering uncertainties in winter forecasts, climatologists are quick to hedge their bets.
"There's no particular reason I know of that we'd expect that to continue through the rest of winter, but I can't say it won't either," said Kevin Trenberth, a climatologist with the National Center for Atmospheric Research (NCAR) in Boulder, Colo.
Parts of the country will still have plenty of snow to shovel. The official forecast from the National Weather Service's Climate Prediction Center (CPC), which analyzes climate variations to foretell the coming weather, suggests this year the main influence on winter weather is a strong La Niña phenomenon.
Weather ahead
In general, years with a moderate or strong La Niña tend to produce a distinctive set of winter weather patterns, said Bob Henson, a meteorologist with NCAR.
La Niña, the cold-weather flipside of El Niño, brings below-average sea surface temperatures across the equatorial Pacific Ocean. This year's La Niña is strong and could be in play until next April or May, according to the CPC.
The three-month forecast from the CPC predicts above-average temperatures in the southern and central states, and below-average temperatures in the northernmost central and western states. There's a high chance of above-average precipitation — possibly more snow — in the Pacific Northwest, Northern Rockies, Great Lakes and Ohio Valley.
The "snowmaggedon" that hit the East Coast last year is not due for a repeat, according to the CPC forecast. Below-average precipitation is most likely across the southern states, extending into the mid-Atlantic region. The drought in the southwestern U.S. states could intensify over the winter.
Outside of the United States in the Pacific Rim countries, La Niña is more typical, and could bring more wet weather to Australia, which has battled recent severe flooding. Western South American countries, such Peru and Ecuador, could see drier weather ahead.
In Europe, La Niña's influence is a toss-up under these circumstances, said Trenberth, because just a small shift could bring much different weather.
Other players
Other than La Niña, there's no other obvious player that could extend the harsh winter weather of the past few weeks.
Other natural variations, such as the atmospheric phenomenon called Madden-Julian oscillation, which has been known to bring a benign December followed by a bitter January, do not appear to be in play this year, Trenberth said.
Yet some factors influencing the winter weather to come are difficult to predict more than one to two weeks in advance, said Mike Halpert, deputy director of the CPC. This is particularly true of the northeastern and mid-Atlantic states, which are affected by the North Atlantic Oscillation, a phenomenon consisting of opposing variations of barometric pressure near Iceland and the Azores, off the coast of Portugal.
Quiz: Global Weather Extremes
Brett Israel is a staff writer for OurAmazingPlanet, a sister site to LiveScience. Reach him at bisrael@techmedianetwork.com. Follow him on Twitter @btisrael.
Stay up to date on the latest science news by signing up for our Essentials newsletter.
Brett Israel was a staff writer for Live Science with a focus on environmental issues. He holds a bachelor's degree in biochemistry and molecular biology from The University of Georgia, a master's degree in journalism from New York University, and has studied doctorate-level biochemistry at Emory University.