Machines Take Center Stage at 'Robot Olympics'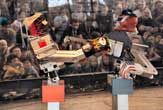 Did the Vancouver Winter Olympics leave you wishing for more international sports competition? Do you also have a taste for tech?
Then the seventh annual RoboGames competition, slated to from April 23 to 25 at California's San Mateo County Expo Center, may be just what you're looking for.
With 70 events and over 500 robots, it's the world's largest robot competition, according to the Guinness Book of World Records. And while entertaining, it's also a place for roboticists and enthusiasts to meet, greet, and exchange ideas.
"Although we aren't pushing people for spectacular technological advances, if DARPA can crowd-source a solution for a military application, there's no reason someone can't come up with a clever solution for something in the world at RoboGames," Simone Davalos, co-founder of RoboGames told TechNewsDaily. "Cross pollination yields hybrid vigor."
And vigor is sure to be on offer at this year's event, both from the robots themselves, and the builders who pour their energy into their creations. Events will feature robot fighters, soccer, golf, and hockey players, sumo wrestlers, and more. And for those less-interested in sports, there are plenty of other events on the ticket.
This year, according to Davalos, an expanded exhibit floor will feature presentations, how-to demos for novice robot builders, and a discussion featuring many female members of the science and technology fields.
Fighting bots
But the star attractions are the combat robots. First gaining widespread exposure on television shows like BattleBots and others that aired on cable television in the early 2000s, the battle robots have continued to gather fervent crowds at the RoboGames long after their fifteen minutes of television fame faded. And the robots themselves have gotten much more menacing.
"Robot Combat is alive and well," Davalos said. "We like to say that we put it at the back of the venue like a grocery puts milk in the back of the store. People come for the combat but are exposed to everything else on the way. The machines that are competing now have and will completely obliterate anything that was on the TV shows."
A learning experience
There is also a heavy educational aspect to the RoboGames, Davolos said. Many students from other countries and continents attend the even to compete with each other and show off their autonomous or radio-controlled creations.
"One of our goals in raising funds for the games is to get an endowment together to fund builders who really would like to get to the games, but can't afford it," said Davalos. "It's really expensive to attend if you're flying in from Asia, so we really need some companies who will step up and fund some teams to come and compete."
If you live in the San Francisco area, a number of smaller events are being held this year in local venues leading up to the RoboGames.
"We had a great success with our BarBot cocktail robot event at the DNA lounge in February," said Davalos. "So we're doing Robot Night at a few other venues. People seem to dig it. You really can't beat the combo of robots and beer."
Davalos, who describes herself as coming from a "long and proud line of auto mechanics, garage noodlers, electronics enthusiast and TV producers," founded the RoboGames (at first called the ROBOLympics, until the International Olympic Committee pushed back about the name) in 2004 with David Calkins, professor of robotics and computer engineering at San Francisco State University, and president of the Robotics Society of America. The two also got married that year.
Humble beginnings
When the pair first met in 2000, Calkins was organizing small robot sumo shows at a local science museum. One day, he suggested to Davalos that they team up to start a large open robot competition.
Many robot builders and artists lived and worked in the area, and the two knew others doing similar things in other countries, so the they put out the word and brought them all together to compete and exchange ideas, and the event has been gaining momentum and size every year.
This year the event had to change venues, because it grew too big for the previous venue, Davalos said.
"I thought it would be a laugh," said Davalos. "Here we are seven years later, proving ourselves to be optimistic gluttons for punishment, both of us with one hell of a robot addiction. I'm now a professional robot combat referee. We can quit any time we want. Really!"
Stay up to date on the latest science news by signing up for our Essentials newsletter.