Skilled Animal Fighters May Have an Edge in Brawls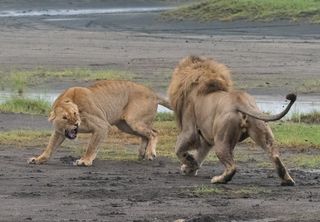 (Image credit: John Stager/Shutterstock)
Brawling beasts may be relying on more than brute strength and size, say researchers, who now suggest the most skillful fighter may often come out on top.
While previous assessments of animal fights have looked more at physical traits to predict the outcome, scientists think these evaluations may be missing another crucial ingredient: actual fighting talent.
"I think it's something that's been massively overlooked when studying how animals fight and why they win," Mark Briffa, a professor of animal behavior at the University of Plymouth in the U.K., told Live Science. "Having observed hundreds and hundreds of animal fights," Briffa has found that "some animals seem to be competent at doing the aggressive behavior needed in a fight. But others seem to be more inept and don't perform the movements as accurately and precisely as other individuals." [Beasts in Battle: 15 Amazing Animal Recruits in War]
Skill is much trickier than size and strength to define and measure though, Briffa noted. This could possibly explain why skill has been left out of animal-contest studies to date, he added; what constitutes skill is likely to vary considerably among species with different fighting styles, and those attributes are not always easily quantifiable.
But writing in the journal Proceedings of the Royal Society B on Sept. 27, Briffa and University of Plymouth postdoctoral research fellow Sarah Lane outlined what skill might mean in animal contests and how researchers might investigate its influence.
First, they suggested that skill should be distinguished from two related concepts: ability and technique. Ability, they said, refers to an animal's innate capacity for fighting, such as its strength or sensory capabilities, which could be determined genetically or by environmental factors that affect the expression of genes during development.
Technique refers to an animal's capacity to perform specific movements important for fighting, which can be influenced both by ability and experience in the form of practice during play or real fighting, they said.
Skill, on the other hand, is the application of technique in the context of a real fight, where the animal's ability to do so is constrained by the actions of the opponent and might vary depending on the animal's aggressiveness and its physical and physiological traits.
The authors noted that some studies have gone beyond simply measuring physical traits and outcomes and have considered the vigor animals fight with — which is normally determined by the intensity or rate with which they perform fighting actions.
"This is slightly different from skill," Briffa said. "You can do something over and over again, but you might not be doing it very well."
What determines skillful fighting, the authors said, is the efficiency, accuracy and precision with which they perform these actions. Another important component is the appropriateness of the actions chosen at specific points throughout the fight, taking into account environmental factors and the opponent's behavior.
Robert Elwood, an emeritus professor of animal behavior at Queen's University Belfast who was not involved in the study, said the suggestion to consider skill's role in animal contests is novel and should shape future studies. [Video: Watch Vicious Cuttlefish Fight]
"It seems very obvious, but often science overlooks the obvious," Elwood told Live Science.
The suggestion fits with scientists' observations that when the difference in size or strength is minimal, winners can often be the smaller or weaker individual, he said.
"This has often been treated as experimental error, but the paper by Briffa and Lane offers an alternative possibility, i.e. perhaps some individuals differ in skill," he added in an email.
The difficulty, though, will be to find ways to measure skill, he said. On that front, Briffa thinks a key first step will be to record animals' movements in 3D. This could allow researchers to compare the movements of winners and losers, to try to identify actions that could signify skillful fighting.
And his group already has some preliminary results that could support the idea from a previous study that looked at hermit crabs that fight by rapping their shell against their opponents'.
By measuring the movements of the crabs' shells, they found that successful attackers displaced their shells through a shorter distance as they carried out strikes, compared with unsuccessful attackers. They also found that the smaller the distance the crabs moved their shells through, the more vigorous their attacks were.
This finding suggests that by carrying out attacking movements more efficiently — and, therefore, skillfully — attackers can fight more vigorously and increase their chances of winning, Briffa said.
Nonetheless, Briffa emphasized that the idea that skill is an important factor in animal fights is still just a hypothesis at this stage and will need rigorous testing. "But I hope it does stimulate people to think about what we're trying to measure when looking at fighting," he added.
Original article on Live Science.
Stay up to date on the latest science news by signing up for our Essentials newsletter.
Edd Gent is a British freelance science writer now living in India. His main interests are the wackier fringes of computer science, engineering, bioscience and science policy. Edd has a Bachelor of Arts degree in Politics and International Relations and is an NCTJ qualified senior reporter. In his spare time he likes to go rock climbing and explore his newly adopted home.