40 Percent of Cancer Cases in US Linked to Weight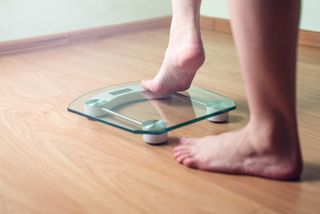 (Image credit: Artem Oleshko/Shutterstock)
Being overweight or obese increases a person's risk for at least 13 types of cancer, according to a new report. The cancers, which include those of the brain, esophagus, thyroid, gallbladder, stomach, pancreas, kidney, uterus and colon, make up 40 percent of all diagnosed cancers in the U.S., according to the report.
In the report, published Oct. 3 by the Centers for Disease Control and Prevention, the researchers found that in 2014 alone, more than 630,000 people in the U.S. had a type of cancer that was associated with being overweight or obese. These cases amounted to more than 55 percent of all cancers diagnosed among women and 24 percent of all cancers diagnosed among men in the U.S.
The link between a person's weight and the risk of certain cancers may come as news to many, the researchers said. Though the relationships between a higher body-mass index (BMI) and chronic conditions such as diabetes and cardiovascular disease are well-touted, researchers know far less about how a higher body weight may be linked to certain cancers. [10 Do's and Don'ts to Reduce Your Risk of Cancer]
Indeed, the "awareness of some cancers being associated with obesity and [being] overweight is not yet widespread" among Americans, Dr. Anne Schuchat, the deputy director of the CDC, said in a press conference on Oct. 3.
The International Agency for Research on Cancer, which is the cancer agency of the World Health Organization, says that there is "sufficient evidence" to link excess body fat to at least 13 different cancers, according to the report. Excess weight may increase a person's risk of cancer by increasing levels of inflammation in the body, according to the report. Excess weight may also increase levels of certain hormones, such as insulin and sex hormones, and a compound called insulin-like growth factor, which plays a role in growth, the report said; these factors have been linked to cancer risk.
In the report, the researchers used government data on 2014 cancer rates, as well as data from 2005 to 2014 to study any changes that may have occurred in the rates of certain cancers. One limitation of the study, the researchers noted, was that they did not have data on patient's' weights or BMIs.
The researchers found that weight-related cancers were increasingly being diagnosed among younger people. From 2005 and 2014, there was a 1.4 percent uptick in cancers related to being overweight and obese among people ages 20 to 49, compared with a 0.4 percent increase in these cancers among the 50-to-64 set. In addition, nearly half of all cancers in people younger than 65 were associated with excess weight, the researchers found.
The report also found that people who are overweight or obese are nearly twice as likely as people who are of normal weight to develop cancers of the esophagus, stomach, liver and kidney. People who are overweight or obese are also about 30 percent more likely to develop colorectal cancer than individuals with normal weight, according to the report. And women who are overweight or obese are about two to four times more likely to develop endometrial cancer, the scientists said.
The researchers noted the importance of public health efforts to promote healthy weight.
"The burden of overweight- and obesity-related cancers might be reduced through efforts to prevent and control" excess weight gain and obesity, the study authors wrote. "Comprehensive cancer-control strategies, including use of evidence-based interventions to promote healthy weight, could help decrease the incidence of these cancers in the United States."
Originally published on Live Science.
Stay up to date on the latest science news by signing up for our Essentials newsletter.