Mysterious Chemical Cloud Sickens Scores at British Beaches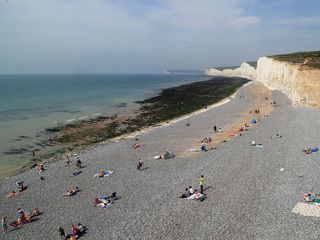 (Image credit: Gareth Fuller/PA/Zuma)
A mysterious chemical cloud descended on beaches in England on Sunday (Aug. 27), according to news reports, and authorities are puzzling over what caused it and why it sickened more than 100 people.
As the cryptic cloud fogged up the shoreline, several beaches in East Sussex were evacuated and residents were advised to close their windows and doors, The Independent reported yesterday (Aug. 28).
The chemical composition of the cloud is not clear. "What it was, it smelled like burnt plastic," Bob Jefferey, a deputy launching authority at the Royal National Lifeboat Institution Eastbourne division told The Guardian.
One beachgoer tweeted, "Some sort of chemical incident at Birling Gap, eyes are streaming and there's a strong smell of chlorine in the air."
Another beachgoer told The Guardian that doctors who treated her said she had been exposed to ammonia.
Authorities are still investigating where the cloud came from.
"Neither the gas nor its source have been established, but agencies are continuing to investigate and have not ruled out either on-shore or off-shore locations, although it does appear that it did sweep in from the sea driven by on-shore breezes," the Sussex police said, according to The Independent.
It's unlikely, however, that the cloud drifted across the English Channel from France, the Sussex police said. (Chemical clouds have drifted across the English Channel from Europe in the past, but British officials said Sunday's weather would not have caused this, according to The Independent.)
Jay Merrell, a weather forecaster from the U.K.'s national weather service, said the cloud may have been caused by a ship offshore, but added that nothing conclusive had been proved, according to the Associated Press.
By Monday, the cloud had mostly dissipated, The Guardian reported.
Originally published on Live Science.
Stay up to date on the latest science news by signing up for our Essentials newsletter.
Sara is a staff writer for Live Science, covering health. She grew up outside of Philadelphia and studied biology at Hamilton College in upstate New York. When she's not writing, she can be found at the library, checking out a big stack of books.