Snowfall Scale to Rank Storms' Impact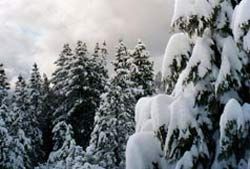 Soon, when a snowstorm proves crippling, the government will call it exactly that.
Sometimes, anyway. And in some places.
The Northeast Snowfall Impact Scale, or NESIS, will be used to evaluate the impact of a powerful snowstorm soon after it strikes, and give it a rank in a fashion similar to the method used to categorize the strength of tornadoes.
Northeast snowstorms will rank as Notable, Significant, Major, Crippling or Extreme.
But if you live out in the boondocks, you might be lucky if your blizzard is declared Notable. The rating system, announced today, has an odd twist: It will consider not just how much snow falls but the population of the area it hits.
"The snowfall impact scale is designed to look retrospectively at a recent snowstorm—not to forecast one," said Louis Uccellini, director of the NOAA National Centers for Environmental Prediction in Camp Springs, Md. "With its rankings, the scale will also give a better perspective on how these major storms affected populations in the Northeast."
A snowstorm that moved through Northeast on Dec. 8-9, 2005 was a NESIS category 2 (Significant) storm, Uccellini and colleagues say.
The idea is to "give the public a new, easy-to-understand scale to categorize major snowstorms after they effect the Northeast."
It remains to be seen if the rating system will become anywhere near as popular or widely used as the Fujita Scale for tornadoes, the Saffir-Simpson scale for hurricanes, the magnitude scale for earthquakes (scientists generally don't call that one the Richter Scale anymore). One example of a scale that has not gained widespread recognition by the public is the Torino Scale, which ranks the potential hazard for asteroids.
Image Gallery: Tornadoes
Snowflake Gallery: No Two Alike, of Course
Stay up to date on the latest science news by signing up for our Essentials newsletter.
Robert is an independent health and science journalist and writer based in Phoenix, Arizona. He is a former editor-in-chief of Live Science with over 20 years of experience as a reporter and editor. He has worked on websites such as Space.com and Tom's Guide, and is a contributor on Medium, covering how we age and how to optimize the mind and body through time. He has a journalism degree from Humboldt State University in California.