Doctors Want Sugar and 'Cancer-Causing' Foods Out of Hospitals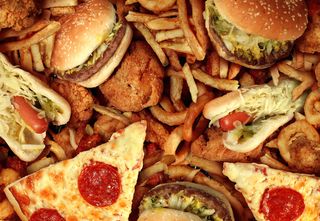 (Image credit: Lightspring/Shutterstock)
A major doctors' group hopes to put an end to a great irony served up daily at most U.S. hospitals: The food offered there tends to contribute to obesity, diabetes, heart disease, stroke and cancer — the very same conditions for which many of the hospital patients are seeking treatment.
Refried, frozen chicken patties on doughy white bread; greasy pizza slices that turn the paper plate translucent; waxy, flavorless beans poured straight from a can constituting the only vegetable option; orange drink purporting to have 10 percent real orange … So much for a hospital being a beacon of health.
At its annual meeting on June 14, the American Medical Association (AMA) House of Delegates, which represents more than 200,000 physician members, issued a policy statement that called for the reduction of sugar-sweetened beverages and processed meats, and an increase in the availability of healthful, plant-based foods in hospitals. [7 Foods You Can Overdose On]
Under the resolution, physicians and hospital staff are encouraged not only to counsel their patients about the health consequences of a poor diet but also to lead by example by offering healthier foods at the hospital.
Specifically, the resolution states that the "American Medical Association hereby call on U.S. hospitals to improve the health of patients, staff, and visitors by (1) providing a variety of healthful food, including plant-based meals and meals that are low in fat, sodium, and added sugars, (2) eliminating processed meats from menus, and (3) providing and promoting healthful beverages."
Removing sugary drinks from vending machines and replacing them with water, unflavored milk, and unsweetened teas and coffees may be the easiest place to start making hospital food choices healthier, according to the AMA.
"Excessive sugar consumption has been linked to some of the nation's most debilitating diseases, and limiting the consumption of sugar-sweetened beverages will go a long way toward helping people prevent the onset of these diseases, improve health outcomes and rein in health costs associated with chronic diseases," Dr. William E. Kobler, an AMA board member who was part of the policy decision, said in a statement from the organization.
Yet health experts have lamented for years that hospitals' food options, not just the drinks, are unhealthy — a concept that contradicts hospitals' health-oriented mission. A study published in 2002 in the Journal of the American Medical Association found that more than a third of the top 16 U.S. hospitals had contracts with fast-food restaurants to offer their food in the hospital.
Similarly, a 2014 study conducted by the Physicians Committee for Responsible Medicine (PCRM), a nonprofit health group of 12,000 doctors who advocate plant-based diets, found that more than 20 percent of the 208 hospitals they surveyed housed fast-food restaurants. The same study found that the cafeteria food in these hospitals, where the staff eats every day, was dominated by foods that were high in sugar, salt and cholesterol, such as processed meats. [9 Snack Foods: Healthy or Not?]
Speaking at the AMA meeting, PCRM President Dr. Neal Barnard compared unhealthy food served in hospitals to tobacco. "A generation ago, the AMA supported doctors who were working to get tobacco out of their hospitals. And that helped everyone, especially those patients who needed to break a bad habit," Barnard said in testimony.
Barnard noted that, as with cigarettes, hot dogs and similar processed meats are now known to contain cancer-causing agents. "[M]any doctors and administrators would like to replace them with healthier foods," he said.
The Washington, D.C.-based PCRM started a national campaign in 2016 to encourage hospitals to ban processed meats such as hot dogs, which are a choking hazard for children. Several hospitals have since pledged to remove these foods as a result of the campaign.
The tide may be turning elsewhere, as well. A 2015 study published in the journal Preventive Medicine Reports found that creating hospital gardens for staff, patients and the community can lower rates of obesity in communities they serve and reduce public health disparities by providing more people with easy access to fresh, healthy, plant-based foods. More than 100 hospitals have such gardens, the study found.
So the day might come when you can go to the hospital to fix a broken leg and not have to return for a hospital-food-induced angioplasty.
Other policy resolutions announced at the AMA meeting included reducing the consumption of sugary drinks nationwide, destigmatizing obesity, strengthening vaccine policy and using the phrase "gun violence mitigation" in lieu of "gun control," among 11 other resolutions.
Follow Christopher Wanjek @wanjek for daily tweets on health and science with a humorous edge. Wanjek is the author of "Food at Work" and "Bad Medicine." His column, Bad Medicine, appears regularly on Live Science.
Stay up to date on the latest science news by signing up for our Essentials newsletter.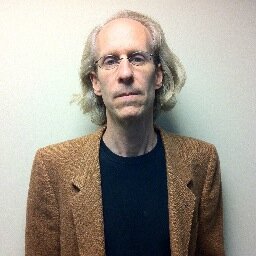 Christopher Wanjek is a Live Science contributor and a health and science writer. He is the author of three science books: Spacefarers (2020), Food at Work (2005) and Bad Medicine (2003). His "Food at Work" book and project, concerning workers' health, safety and productivity, was commissioned by the U.N.'s International Labor Organization. For Live Science, Christopher covers public health, nutrition and biology, and he has written extensively for The Washington Post and Sky & Telescope among others, as well as for the NASA Goddard Space Flight Center, where he was a senior writer. Christopher holds a Master of Health degree from Harvard School of Public Health and a degree in journalism from Temple University.