Baby Gorillas Show Off Cute Hairstyles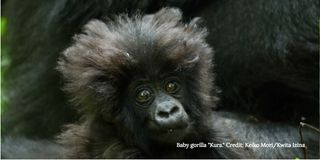 (Image credit: Keiko Mori/Kwita Izina)
Due to a combination of natural growth differences and parent grooming variations, baby gorillas have unique and sometimes very human-like hairdos.
Their distinctive looks were showcased at the recent gorilla naming ceremony (or Kwita Izina) held in Rwanda, where 35 percent of the world's non-captive mountain gorilla population exists. This year marked the 12th annual naming ceremony, which promotes conservation of these endangered primates.
RELATED: Baby Gorilla Born After Rare Caesarian Section
"This celebration serves to acknowledge just how important the mountain gorilla population is to the entire region," said spokesperson Marissa Shapiro, "and the significance that Rwanda places on its environmental sustainability practices and ecotourism sector. Rwanda's visitors have increased by 4 percent and tourism revenues increased more than 25 percentto $400 million in a single year."
Rwanda's President Paul Kagame, who presided over the event, said that economic growth and conservation can be complimentary.
"When we protect our environment, we are also taking of ourselves," Kagame said during the ceremony. "The more we put efforts in conservation, the more benefits we amass. This means that the communities will even benefit more."
RELATED: World's Oldest Gorilla Turns 59
As for the different hairdos, they provide visual cues to parents and other gorillas, helping them locate their own infant. Vocalizations, smells and other information also help family members identify each other.
You can see footage of one of the mothers, Sulubika, and her family, below. To learn more about gorilla conservation and to see all of the babies, check out Kwita Izina online.
Originally published on Discovery News.
Stay up to date on the latest science news by signing up for our Essentials newsletter.