Pediatricians Should Discuss Sexuality with Kids, Group Says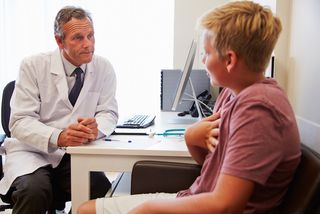 (Image credit: Monkey Business Images/Shutterstock.com)
Pediatricians should help educate their patients about sex and help parents learn how best to talk to their kids about sexuality, advised a new report from the American Academy of Pediatrics.
By acting as an additional source for trustworthy information about sex and sexuality, pediatricians could complement the education that kids may receive at school or at home, the authors of the report said.
The new recommendations are based on previous research showing that providing kids with age-appropriate information about their sexuality helps to prevent and reduce the risks of teen pregnancy and sexually transmitted diseases, the researchers said. [10 Scientific Tips for Raising Happy Kids]
"Research has conclusively demonstrated that programs promoting abstinence-only [behavior] until heterosexual marriage occurs are ineffective," the lead author of the report, Dr. Cora Collette Breuner, a professor of pediatrics at the University of Washington School of Medicine and a chairperson of the AAP Committee on Adolescence, said in a statement. "Sex education is about more than when to have sex."
Information about other issues should also be part of pediatricians' conversations with kids, she added. Those issues include healthy sexual development, interpersonal and consensual relationships, affection, intimacy, and body image.
Currently, many pediatricians don't discuss information on sexuality with their young patients, the report said. For example, one review cited in the new report found that one in three teenage patients "did not receive any information on sexuality from their pediatrician, and if they did, the conversation lasted less than 40 seconds," the researchers said.
"Children and teens should be encouraged to ask questions or share concerns about their bodies or sexuality," Breuner said. "The pediatrician can provide personalized, accurate information in a safe setting."
These discussions among pediatricians, children and their parents can start in early childhood, the report said. And the talks can continue during ongoing visits throughout school age, adolescence and young adulthood, said the new report, published today (July 18) in the journal Pediatrics. The talks should relate to physical, cognitive, and psychosexual development, the report said.
Pediatricians should also encourage parents to talk to their kids about questions related to sexuality, contraception, the internet and social-media use in a way "that is consistent with the child's and family's attitudes, values, beliefs and circumstances," the researchers said. [9 Weird Ways Kids Can Get Hurt]
Scientific evidence supports the new recommendations, showing that the earlier teens receive information about their sexuality, the less likely they are to start having sex at an early age, "and if they do [have sex at an early age], they are more likely to use contraception," said Dr. Jill Rabin, an OB/gyn and co-chief of Ambulatory Care and Women's Health at Northwell Health in New Hyde Park, New York, who was not involved in the new report.
Indeed, research has shown that talking just about abstinence doesn't work, she told Live Science.
Sexuality education is an important issue, considering that the U.S. has the highest rates of teen pregnancies in the industrialized countries, Rabin said. Moreover, about 88 percent of teen pregnancies in the U.S. are unintended. "That means we are not doing a very good job of discussing these issues," she said.
Originally published on Live Science.
Stay up to date on the latest science news by signing up for our Essentials newsletter.