Plume from Mumbai's Burning Landfill Seen from Space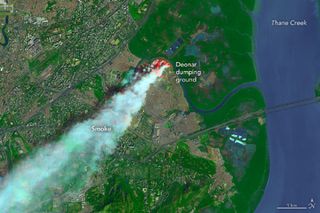 (Image credit: NASA's Earth Observatory)
The end of January had a smoky surprise for Mumbai, India, after the city's largest landfill caught fire and burned for four days. The billowing smoke was so thick that the massive plume could be seen from space.
Mumbai's Deonar dumping ground extends across 0.5 square miles (1.3 square kilometers) near Thane Creek. Each day, the landfill receives more than 8.1 million pounds (3.7 million kilograms) of trash, according to NASA's Earth Observatory. All that garbage gets tossed into towering piles that measure up to 100 feet (30 meters) in places, which is equivalent to the height of a nine-story building, NASA said.
Large-scale fires are never good, but when trash burns, it can be even more problematic. For one, landfill fires are difficult to extinguish because they are fueled by highly flammable substances, such as methane, which is produced by decomposing organic materials, according to NASA. And the Mumbai fire was sizeable enough to be spotted by the Earth-watching Landsat 8 satellite. [In Photos: World's Most Polluted Places]
Equally problematic are the large quantities of smoke produced by the landfill fire, which is located near a densely populated area. The burning trash potentially contains dangerous chemical compounds that can cause respiratory disorders or other medical conditions, according to the U.S. Fire Administration.
On Jan. 29, pollution in Mumbai was measured at its highest levels since air quality data monitoring began last June, reported the Hindustan Times. The System of Air Quality Weather Forecasting And Research (SAFAR), which is a research-based initiative that monitors air quality to inform health advisories and food security in India, measured the air quality index (AQI) at 325 on the morning of Jan. 29, but by the evening it had risen to 341, according to the Hindustan Times. Both numbers fall firmly in the "very poor" air quality category, according to SAFAR India.
The smoky air also forced government schools in central Mumbai's suburbs of Shivaji Nagar and Deonar to close, according to New Delhi Television.
It's unclear exactly what caused the fire, but there were initial reports that three minors may have been responsible for the blaze, reported the Mumbai Mirror. However, a recent story in the Hindustan Times indicated that the fire is currently attributed to a carelessly tossed away matchstick.
Follow Elizabeth Newbern @liznewbern. Follow Live Science @livescience, Facebook & Google+. Original article on Live Science.
Stay up to date on the latest science news by signing up for our Essentials newsletter.
Elizabeth is a staff writer for Live Science. Her interests include the mechanics of weather phenomena, quirky animal behavior, natural disasters and recent developments in the world of genetic research. She has a Master of Arts degree from New York University's Science, Health, and Environmental Reporting Program and has a bachelor's degree in geology from Bryn Mawr College. Elizabeth has traveled all over the Western Hemisphere, where she's touched a stingray, traversed the rim of a volcano and watched coral polyps feeding at night. Follow her on Twitter.