Un-Baaahlievable! Overgrown Sheep Gets Record-Breaking Haircut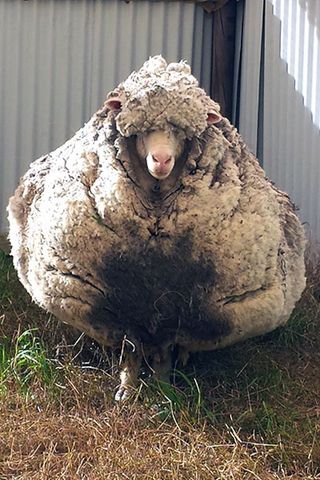 (Image credit: Guinness World Records)
An enormously overgrown sheep that spent years in the wild and was saddled with so much wool that it could barely walk underwent a lifesaving "haircut" last month that removed more than 90 lbs. (41 kilograms) of fleece. Now, the animal affectionately known as Chris the Sheep has set a new Guinness World Records for having the most wool removed in a single shearing.
Chris the Sheep was found roaming around Weston Creek, Australia, on Sept. 2. Named by the wandering hiker who discovered him, the Merino sheep was then rescued by the Royal Society for the Prevention of Cruelty to Animals (RSPCA), a community-based charity that works to prevent animal cruelty.
"It took us a few days to find him, and five staff members (plus the finder) to get him back to the shelter," RSPCA representatives said in a statement. "It was obvious that he had been away from his herd and human contact for at least five years, as his merino wool had grown to an incredible mass." [Gallery of Wonders: The Weirdest World Records]
RSPCA workers expressed extreme concern for the sheep's condition because they feared that Chris' massive wool coat might be hiding serious infections. However, the charity quickly brought in championship shearer Ian Elkins and staff veterinarians to safely remove the wool.
"Just the sheer volume and actually getting into the fleece was quite a challenge," Elkins told the Canberra Times. The first pass to take off some of the bulk took 45 minutes, according to the shearer.
After shedding all of that weight and getting a thorough inspection from the RSPCA's veterinarians, Chris has recovered from his heavy ordeal and is now settling into his new home on a hobby farm in New South Wales, according to The Canberra Times.
Chris the Sheep's milestone surpasses the previous Guinness World Records holder — a sheep named Big Ben from Twizel, New Zealand. Big Ben's 63.7-lb. (28.9 kg) fleece was sheared in January 2014, after the sheep had been wandering in the wild for several years.
Follow Elizabeth Newbern @liznewbern. Follow Live Science @livescience, Facebook & Google+. Original article on Live Science.
Stay up to date on the latest science news by signing up for our Essentials newsletter.
Elizabeth is a staff writer for Live Science. Her interests include the mechanics of weather phenomena, quirky animal behavior, natural disasters and recent developments in the world of genetic research. She has a Master of Arts degree from New York University's Science, Health, and Environmental Reporting Program and has a bachelor's degree in geology from Bryn Mawr College. Elizabeth has traveled all over the Western Hemisphere, where she's touched a stingray, traversed the rim of a volcano and watched coral polyps feeding at night. Follow her on Twitter.