Heritage Livestock are Vanishing Across the United States (Photos)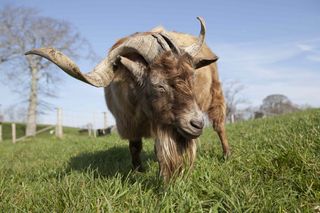 (Image credit: SVF Foundation)
The SVF Foundation contributed these images to Live Science's Expert Voices: Op-Ed & Insights.
From fainting goats to ancient white park cows, U.S. livestock used to be incredibly diverse. Now, with only a few breeds dominating American farms, reserachers are using IVF and cryopreservation to save, and restore, heritage animals. Read more about the effort in "As Ancient Livestock Disappear, Frozen Embryos Restore Ancient Breeds" and see photos of rare, heritage livestock breeds in the gallery below. (Image credits: SVF Foundation.)
A historically important animal
Developed on small farms of New England from ancestral British stock, the American milking Devon was historically a tri-purpose cattle breed, used to provide milk, meat and power. Today this breed is critically endangered, with only an estimated 500 to 600 animals remaining.
Only barely domesticated
A distinctively attractive breed, it is easy to imagine why these feral cattle were hunted as trophy animals in the 13th century. Though they have been re-domesticated and are now raised by several conservation groups in the United States and Britain, the ancient white park still command respect by handlers who recognize their wild instincts can roam close to the surface. This species is one that the SVF has successfully bred using in vitro fertilization techniques.
Ideal for family farms
Although classified as threatened, red poll cattle are finding new popularity with the rising interest in locally raised, grass-fed beef. These beautiful cattle are a heritage breed that thrives in small-scale, family farms where they can be raised on grass, versus commercial beef raised in feedlots. Originally a dual-purpose breed, certain breeders are still working to represent dairy characteristics within their red poll cows, and their milk is especially well-suited to cheese making. This species is one that the SVF has successfully bred using in vitro fertilization techniques.
At work
The SVF Foundation was established to preserve genetic material of endangered livestock by collecting and cryopreserving samples such as embryos, semen, cells and blood. Here Kevin Lindell, DVM, evaluates bovine embryos before freezing.
The first, the mascot
"Chip" is the unofficial mascot of the SVF Foundation. A Tennessee myotonic, or fainting, goat, Chip was the foundation's first embryo transfer, and still lives on the farm at 11 years old.
Uncommon and in trouble
One of the first livestock breeds to be collected by the SVF Foundation, San Clemente goats are a critically endangered feral breed. They were geographically isolated on San Clemente Island, California, long enough to become their own distinctive genetic population, and may represent unique genetic traits not found in other, common goat breeds.
Valuable and strong
Navajo-Churro sheep, like these rams, are hardy and well adapted to the arid desert climate of the southwestern United States, where they were developed by the Navajo people. Prized Churro fiber can be found in a wide variety of colors and is used for many traditional ceremonies, clothing and making rugs.
Follow all of the Expert Voices issues and debates — and become part of the discussion — on Facebook, Twitter and Google+. The views expressed are those of the author and do not necessarily reflect the views of the publisher. This version of the article was originally published on Live Science.
Stay up to date on the latest science news by signing up for our Essentials newsletter.