Stand for 2 Hours Every Workday, Panel Says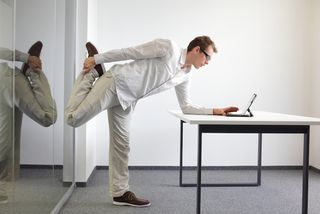 (Image credit: Marcin Balcerzak/Shutterstock.com)
People who sit at a desk to do their jobs should stand up for at least two hours of their workdays, and should progress toward standing up for four hours daily, according to new advice from a panel of experts in the United Kingdom.
The advice comes as research increasingly shows that sitting for long periods of time may be linked with a slew of health risks.
The panel wanted to give the public "some sensible guidelines," so that people might better understand the amount of standing up during the workday that may be necessary to bring health benefits, said John Buckley, a co-author of the new guidelines and a professor of exercise science at the University of Chester in England.
"Two hours is a 'threshold' that seems to have appeared clearly" to show a benefit in studies of sitting and health, Buckley said. The new advice is published today (June 1) in the British Journal of Sports Medicine. [Don't Sit Tight: 6 Ways to Be Healthier]
Some suggestions for workers include getting up to talk with colleagues rather than relying on email, holding "standing meetings" or "walking meetings," and using adjustable "sit-stand" desks, said Gavin Bradley, who also participated on the panel, and is the founder of the UK-based nonprofit organization Active Working CIC, which advocates for research on sedentary workplaces. (The organization does not receive funding from the furniture industry, Bradley said.)
The new advice is good in that it gives people a specific amount of time to shoot for, said Aviroop Biswas, a researcher at the Institute of Health Policy, Management and Evaluation at the University of Toronto.
"Giving a number helps give people a goal. It makes it easier to digest what it could look like — that it's practical and doable," Biswas said. But there is still much research to be done on the health effects of too much sitting, he said. "It's by no means the most conclusive, but provides a place to start amongst all the advice telling you to just sit less."
So far, the findings of studies on sitting that were "interventional" — meaning that researchers asked one group people to stand up more, and compared them with a control group — have found that sedentary behavior is linked with an increased risk of type 2 diabetes, elevated levels of blood sugar and a slow-down in people's metabolism, Biswas said.
Other studies that were not interventional have also suggested links between too much sitting and heart disease and cancer. In a recent study that Biswas led, too much sitting was even linked with an increased risk of dying early. But all of those studies were limited in that they found associations, but not a cause-and-effect relationship between sitting and worse health, he said.
More research is needed to know exactly how following the new guidelines might benefit people's health, Biswas told Live Science.
In 2013, the American Medical Association recommended that employers and workers try to sit for less of the work day. The group gave the examples of using standing work stations, or isometric balls (sometimes called balance balls or stability balls) as ways to improve workers' health. The advice did not include a specific length of time that workers should aim to spend on their feet.
The researchers who wrote the new recommendations expect that in respsone, some people will embrace them, but others will react negatively, or be intimidated by the task, Bradley said. If workplace cultures change in ways that make standing or walking during the workday acceptable, the naysayers may be more likely to become accepting, he said.
Biswas said that two hours is "a big ask for a lot people." He suggested that people start by aiming to walk for two minutes out of every 20, and work their way up toward being on their feet for two hours daily.
It's important that people know that improving health is not only about sitting less at work, but also about exercising during other times of the day, Biswas said. "You have to increase the amount of movement you do over your whole day."
Follow Live Science @livescience, Facebook & Google+. Originally published on Live Science.
Stay up to date on the latest science news by signing up for our Essentials newsletter.

Karen came to LiveScience in 2010, after writing for Discover and Popular Mechanics magazines, and working as a correspondent for the Journal of the National Cancer Institute. She holds an M.S. degree in science and medical journalism from Boston University, as well as an M.S. in cellular biology from Northeastern Illinois University. Prior to becoming a journalist, Karen taught science at Adlai E. Stevenson High School, in Lincolnshire, Ill. for eight years.