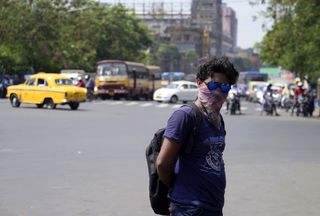 (Image credit: Saikat Paul/Shutterstock.com)
A heat wave scorching India this week has already killed at least 1,000 people, according to Indian authorities, but that number may be a huge underestimate, one researcher says.
It's possible that thousands more have died as a result of the blistering conditions but that their deaths might not have been attributed to the heat wave, said Dr. Gulrez Shah Azhar, a community health researcher and policy analyst at Rand Corp. in Santa Monica, California.
Heat waves can be especially harsh on people with pre-existing health conditions, such as heart disease and dehydration. That's because heat waves can overtax the body, making it difficult for people with these conditions to deal with the illness and they often are more likely to die as a result, Azhar said.
And this heat wave could be a harbinger, as climate models suggest heat waves may become more frequent and intense in the coming decades, researchers say. [The 8 Hottest Places on Earth]
Heat wave
Right now, the central-southern states of Telangana and Andhra Pradesh in India are scorching hot, with temperatures reaching a peak of 118 degrees Fahrenheit (48 degrees Celsius) in the state of Telangana last week, the BBC reported. So far, at least 1,118 people have died in India as a result of the heat, according to authorities in India.
The furnacelike conditions are a result of weird wind circulation. By April, the atmospheric circulation above India usually reverses course, and air hovering over Somalia blows across the Arabian Sea, picks up moisture and then dumps that water over the subcontinent in the form of monsoon rains, said Raghu Murtugudde, an atmospheric and oceanic scientist at the University of Maryland in College Park.
But that hasn't happened yet.
"If you look at surface winds and wind anomalies, they're coming straight from the northwestern deserts of India into this region, so it's just bringing dry, hot air instead of the moist air that should be coming off the Arabian Sea and bringing some showers," Murtugudde told Live Science.
As in other heat waves, many of the victims were working outdoors during the hottest part of the day, or were homeless. The elderly and the very young are also more susceptible to heatstroke.
Vast undercount
But as shocking as the death toll seems, it may be a huge underestimate, Azhar said. That's because people who die as a result of heat don't necessarily die of heatstroke or heat rash. Instead, they die of heart attacks, kidney failure, dehydration or other medical conditions that were exacerbated by the heat, Azhar said.
For instance, in the western Indian city of Ahmedabad in 2010, authorities reported 50 deaths attributed to a weeklong heat wave. But in a 2010 study detailed in the journal PLOS ONE, Azhar and his colleagues found that 1,344 more people died during the hottest week than is typical for the region during cooler periods. (Two-thirds of these excess deaths were of women, though Azhar doesn't know why that is.)
What's more, India may be more prone to undercounting because authorities rely on death certificates to ascertain the cause of death. The homeless and those with no property to dispense are often not issued death certificates, Azhar said.
Adapting to the heat
India has always been hot, yet people didn't routinely die of heatstroke, where the body can't keep its body temperature low enough to maintain functioning. And some of the hottest places on Earth, where the mercury routinely reaches temperatures similar to those seen in India, don't see such dramatic heat-related death tolls. So why are so many people dying as a result of the heat in India?
"Our lifestyle is making us more vulnerable to heat," Azhar said.
People in India used to stay indoors or in the shade during the hottest part of the day, drinking cold yogurt; if they had to venture outdoors, they would cover their heads with white cloth. Historically, houses in desert regions were built with high roofs, insulation and windows that kept out most of the sun's punishing rays. Nowadays, however, people have lost their knowledge of what to do during heat waves, he noted. Many also live in tin shacks in overcrowded megacities that, as urban heat islands, are several degrees warmer than nearby locales. [What 11 Billion People Mean for the Planet]
However, there's some progress being made. After the deadly summer of 2010, when hundreds of people in India died a result of the blazing heat, Azhar and his colleagues worked with city officials in Ahmedabad to develop simple ways to prevent heat-related deaths.
In unpublished work, they found that simple interventions, such as sending people text messages alerting them of high temperatures, or keeping parks and homeless shelters open on the hottest days, could reduce the number of deaths during heat waves, Azhar said. Authorities could also limit the problem by avoiding scheduled blackouts or water cuts on the hottest days, Azhar added.
India should figure out how deal with the heat waves, as the high temperatures are not going away anytime soon, said Subimal Ghosh, a civil engineer at the Indian Institute of Technology Bombay, in what is now Mumbai. In a study published in April in the journal Regional Environmental Change, Ghosh and his colleagues found that heat waves may come earlier in the year, and may affect regions normally not plagued by extreme temperatures.
"With the increase of global warming, the occurrence of heat waves will increase," Ghosh told Live Science.
Follow Tia Ghose on Twitter and Google+. Follow Live Science @livescience, Facebook & Google+. Originally published on Live Science.
Stay up to date on the latest science news by signing up for our Essentials newsletter.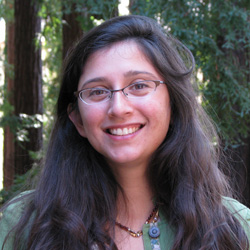 Tia is the managing editor and was previously a senior writer for Live Science. Her work has appeared in Scientific American, Wired.com and other outlets. She holds a master's degree in bioengineering from the University of Washington, a graduate certificate in science writing from UC Santa Cruz and a bachelor's degree in mechanical engineering from the University of Texas at Austin. Tia was part of a team at the Milwaukee Journal Sentinel that published the Empty Cradles series on preterm births, which won multiple awards, including the 2012 Casey Medal for Meritorious Journalism.