Why India Just Suffered the World's Biggest Blackout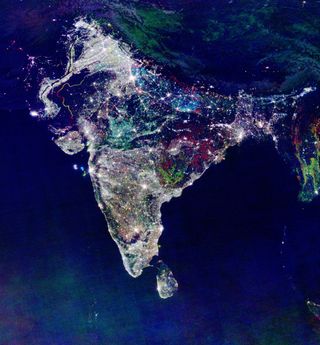 (Image credit: NOAA National Geophysical Data Center)
India endured the world's largest power failure today (July 31), with a blackout that affected 700 million people, including the nation's capital of New Delhi. Trains and subway systems stopped, while private businesses and hospitals geared up their generators, the New York Times reported. Today's blackout followed another large outage yesterday, which affected 350 million people.
Although record-setting in size, the blackout wasn't entirely unexpected. India is chronically short on power, and Indian cities regularly experience temporary power cuts, as many outlets reported. Today's and yesterday's outages underscore longer-term questions about how India can continue to supply its citizens' and businesses' growing demand for electricity.
Also in question is how India will deliver electricity to all its residents in the future. Only nine of India's 28 states have full access to electricity, according to the BBC. If the Indian power structure can't keep up with demand, the situation will threaten India's growth and stability, according to the National Bureau of Asian Research.
Analysts and officials have searched for roots to India's power problem in several places, hoping to answer several questions: "Why now?" "Why this year?" and "What's wrong with India?"
For this particular blackout, India's home minister, Sushilkumar Shinde — promoted today to his post from the power ministry — said officials don't yet know what's to blame. A grid malfunction in the northern city of Agra may be the cause, the International Business Times reported.
Another culprit may be northern Indian states drawing more power from the country's grid than they were allotted. India has circuit breakers to cut off power to states that overdraw, but state officials may have told the circuit breaker personnel not to shut off their power, Surendra Rao, former chairman of the Central Electricity Regulatory Commission, told the New York Times. Federal officials will penalize overdrawing states, Shinde told the New York Times.
In addition, this year, delayed monsoon rains increased farmers' demand for irrigation-related electricity while reducing the water available for hydroelectricity, which accounts for 20 percent of India's grid, according to Businessweek and Reuters.
Taking the long view, a BBC analysis found India has the financial means to eliminate its chronic power shortage, but suffers problems in "the delivery process."
"Bankrupt state-run electricity boards, an acute shortage of coal, skewed subsidies which end up benefiting rich farmers, power theft, and underperforming private distribution agencies are to blame," wrote Soutik Biswas, the BBC's Delhi correspondent.
To examine coal: It provides 60 percent of India's power and just one government-owned company, Coal India, is responsible for much of the country's supply. Yet Coal India often falls short of its targets. Coal-based electricity was historically cheap in India, but is now getting more expensive, National Geographic reported. Coal plants also face opposition from environmental groups.
Prime Minister Manmohan Singh is working to increase the amount of nuclear power in India's grid, but a nuclear power project with the U.S. was scrapped because of safety fears, the International Business Times reported.
Besides finding and penalizing states that take power beyond their allotment, the Indian government is investing in infrastructure and raising prices on electricity, Businessweek reported. Meanwhile, Rao advocated for a heavier hand to holding officials accountable. "Heads should be rolling," he told Businessweek.
This story was provided by InnovationNewsDaily, a sister site to LiveScience. Follow InnovationNewsDaily on Twitter @News_Innovation, or on Facebook.
Stay up to date on the latest science news by signing up for our Essentials newsletter.