Ebola Update: 46 People Being Monitored, Family Has Been Moved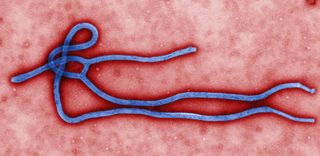 (Image credit: CDC/Cynthia Goldsmith/Public Health Image Library)
There are now 46 people in Texas being monitored for signs of Ebola because they had definite or possible contact with the man in Texas who has Ebola, officials said today (Oct. 4). So far, none of these people have developed a fever or other Ebola symptoms; the patient was placed into isolation on Sunday Sept. 28.
Officials are particulary concerned about the family members who were in the home with patient Thomas Eric Duncan when he became ill, Dr. Tom Frieden, director of the Centers for Disease Control and Prevention, told reporters today. But officials will continue to monitor all 46 people daily, he said.
Previously, CDC officials had assessed 114 people, looking at whether they may have had contact with Duncan and could be at risk for Ebola, Frieden said. Those initial assessments ruled out all but 46 people, including nine who are considered to be at higher risk than the others because they had definite contact with the patient.
The family of four whose home Duncan was at when he became ill was moved from their apartment to a new location, said Clay Lewis Jenkins, judge in Dallas County. The family includes a woman named Louise, who has been identified as Duncan's girlfriend in the media, along with her teen son and two nephews, according to news reports.
Jenkins said he himself drove the family to their new location, and was assured by medical personnel that being in a vehicle with them was not a threat to his own health.
Duncan developed symptoms four days after arriving in Texas from Liberia. He is being treated in isolation at Texas Health Presbyterian Hospital. [5 Things You Should Know About Ebola]
The ongoing Ebola outbreak in West Africa has sickened more than 7,150 people since it began in early 2014, accoding to the World Health Organization. More than 3,300 of the patients have died.
An NBC News cameraman recently become ill with Ebola, the network said Thursday (Oct. 2). He was covering the outbreak in Liberia and is now the fifth American infected with Ebola. Previously, four U.S. health workers were infected with Ebola while working in West Africa and were brought to the United States for treatment.
Stay up to date on the latest science news by signing up for our Essentials newsletter.

Karen came to LiveScience in 2010, after writing for Discover and Popular Mechanics magazines, and working as a correspondent for the Journal of the National Cancer Institute. She holds an M.S. degree in science and medical journalism from Boston University, as well as an M.S. in cellular biology from Northeastern Illinois University. Prior to becoming a journalist, Karen taught science at Adlai E. Stevenson High School, in Lincolnshire, Ill. for eight years.