Live Science Thanks You, Our 1 Million+ Facebook Fans! (Infographic)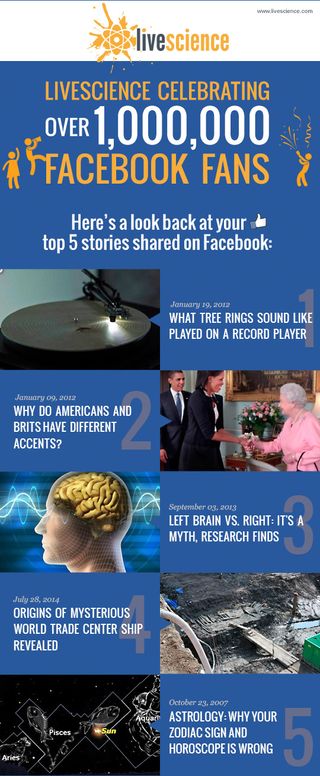 (Image credit: Anita Rahman)
You really do love science!
Live Science, founded in 2004, has grown to have more than 1 million fans on Facebook and continues to grow as more readers find us on social media and spread the word about our coverage of science, technology and the natural world.
What have been your favorite stories?
1. What Tree Rings Sound Like Played on a Record Player
Artist Bartholomäus Traubeck has custom-built a record player that is able to "play" cross-sectional slices of tree trunks. The result is his art piece "Years," an audio recording of tree rings being read by a computer and turned into music, much like a record player's needle reads the grooves on an LP.
2. Why Do Americans and Brits Have Different Accents?
At the time of the American Revolution, Americans and British people spoke the same. It was the British accent that later diverged.
3. Left Brain vs. Right: It's a Myth, Research Finds
Popular culture would have you believe that logical, methodical and analytical people are left-brain dominant, while the creative and artistic types are right-brain dominant. Trouble is, science never really supported this notion.
4. Origins of Mysterious World Trade Center Ship Revealed
In July 2010, amid the gargantuan rebuilding effort at the site of the World Trade Center in Lower Manhattan, construction workers halted the backhoes when they uncovered something unexpected just south of where the Twin Towers once stood.
5. Astrology: Why Your Zodiac Sign and Horoscope Are Wrong
It's a great conversation starter: "What's your sign?" But before you ask or answer that question, consider this: Your zodiac sign corresponds to the position of the sun relative to constellations as they appeared more 2,200 years ago!
If you'd like to continue to stay on top of the latest developments in science, you can find us on social media!
Facebook: http://www.facebook.com/livescience
Tumblr: http://live-science.tumblr.com
Twitter: http://twitter.com/LiveScience
Google+: https://plus.google.com/u/0/+livescience/posts
Pinterest: http://www.pinterest.com/livescience/
Stay up to date on the latest science news by signing up for our Essentials newsletter.