Robin Williams' Death: Why No One Is Immune to Depression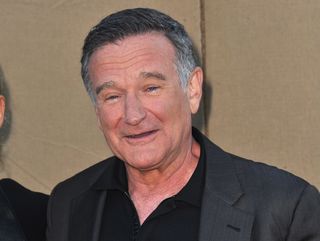 (Image credit: Featureflash/Shutterstock.com)
Robin Williams' death from an apparent suicide yesterday came with the news that the 63-year-old actor and comedian may have been suffering from depression.
More investigation is needed before the circumstances around Williams' death are fully known, Lieutenant Keith Boyd, of the Marin County Sheriff's Office, told reporters today (Aug. 12). Williams never publicly said he was suffering from depression or any other mood disorders, but his representative told news media that "he has been battling severe depression of late."
The possibility that someone as talented and successful as Williams may have committed suicide shows that no one is immune to depression, said Dr. Manpreet Singh, an assistant professor of psychiatry at Stanford University School of Medicine. [5 Myths About Suicide, Debunked]
"Robin Williams' death reflects how pervasive depression is, and how it can affect anyone," Singh said.
It is estimated that 26 percent of U.S. adults suffer from depression during their lifetime, according to the Centers for Disease Control and Prevention. And every year, more than 38,000 people in the United States take their own lives, making suicide the 10th most common cause of death in this country.
Depression can happen to people in any age, even children, and people from any race or ethnicity or social class. It is influenced by genetics, and can run in families, Singh told Live Science.
Depression is a brain-based medical problem
Depression is sometimes misconceived as a personal weakness, but the disorder is not related to the strength of someone's character, Singh said. "It's actually a serious medical condition."
Just like asthma, diabetes, or any other medical disease, depression is a problem that originates in an organ — in this case, the brain. Scientists have yet to map out exactly what happens in the brain that gives rise to the plethora of depressive symptoms, but in one of the most studied theories, it is thought that an imbalance in the brain's signaling chemicals may have a role.
Some studies have also found differences in the sizes of certain brain regions in patients with depression compared with healthy people.
However, it's not clear whether chemical changes or size differences are caused by depression, or have resulted from it.
"The brain is a highly complex organ and in depression, it's not just one specific region of the brain that is involved. In fact, certain key regions work in concert in a network," and researchers need a better understanding of how depression may influence the way brain activity is coordinated across these regions, Singh said.
Suicidal thoughts or attempts may be a symptom of depression
A common misconception about depression is that it is mainly about feeling sad. But sadness is only one symptom of the disorder, Singh said. Depression also has physical symptoms, such as changes in appetite and quality of sleep, and other emotional symptoms such as feeling worthless. It also involves changes in behavior such as loss of interest in the things that are normally enjoyable.
Thinking about suicide is also a symptom of depression. "Many people say that they don't feel that they have a choice," Singh said.
Experiencing suicidal ideation may reflect how severely a person is affected by depression.
"There is a subgroup of depressed patients who experience their depression as more severe. That is related to the brain and its wiring. They are at greater risk of suicide," said Dr. John Mann, a professor of neuroscience and psychiatry at Columbia University.
Suicide also occurs in people with other mood disorders such as bipolar disorder, and conditions such as schizophrenia. [Suicide: Red Flags and Warning Signs]
Treatments exists, but there's need for improvement
Another myth about depression is that it can't be treated, Singh said. "Depression is actually among the most treatable mental health conditions."
Treatments for depression rage from talk therapy (psychotherapy), cognitive-behavior therapy and medications. Studies have found that about 60 percent of patients respond to one or a combination of these therapies.
However, challenges remain to find treatments for those patients who don't respond, and also to make sure that a patient's response to therapy lasts. Many people experience a return of their depression after they stop therapy, the doctors said.
Some experimental therapies that are showing some promise are drugs that target different systems of the brain, or electrical stimulation techniques that zap certain brain regions.
Still, there's not enough being done to identify people with depression and treat them, experts said.
"We know that about 60 percent of suicides in the USA have a mood disorder, and most are untreated at the time of their suicide," Mann said. "That makes it pretty clear that we should be able to prevent more suicides by better diagnosis and treatment of depressive illness."
Fame and wealth do not shield a person from depression
Although depression can affect anyone from all walks of life, it is possible that people in certain professions are more at risk for the disorder.
"There's a lot of anxiety and pressure on actors and actresses," said Dr. Scott Krakower, a psychiatrist at Zucker Hillside Hospital in Glen Oaks, New York. "I think that they put a lot of pressure on themselves to really exceed and perform, and that can be extremely stressful for them, especially when they are in the spotlight all the time," Krakower said.
On top of the pressure of fame or status, people's personalities may also have a role in putting them at risk for depression.
"Creative people may have higher rates of mood disorders, perhaps bipolar disorder, and the mood disorder may increase their risk for suicide," Mann said.
Alcohol, drugs and depression
Robin Williams had a drinking problem, and went to rehab at least twice for drug treatment, he had said in previous media interviews. He surely wasn't alone in battling both depression and substance abuse problems at once, experts said. In fact, it is common for these problems to occur together.
"Alcohol use is an extremely important risk factor because it can change the level of risk very quickly. It both interferes with the beneficial effect of antidepressant medications and increases the risk of someone acting on their suicidal thoughts," Mann said.
It is not known whether depression might cause people to use drugs and alcohol, or using the substances eventually leads people to develop depression. And how the link works may vary from person to person. But in any case, both disorders should be addressed when treating a patient, experts said.
"A lot of places have either been designed for people with substance abuse, or people with psychiatric disorders. Unfortunately, we really don't have that many places to treat people who suffer from both," Krakower said.
Email Bahar Gholipour. Follow Live Science @livescience, Facebook & Google+. Originally published on Live Science.
Stay up to date on the latest science news by signing up for our Essentials newsletter.
Bahar Gholipour is a staff reporter for Live Science covering neuroscience, odd medical cases and all things health. She holds a Master of Science degree in neuroscience from the École Normale Supérieure (ENS) in Paris, and has done graduate-level work in science journalism at the State University of New York at Stony Brook. She has worked as a research assistant at the Laboratoire de Neurosciences Cognitives at ENS.