Modern Humans Retain Caveman's Survival Instincts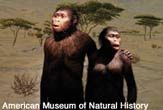 Like hunter-gatherers in the jungle, modern humans are still experts at spotting predators and prey, despite the developed world's safe suburbs and indoor lifestyle, a new study suggests.
The research, published online this week in the Proceedings of the National Academy of Sciences, reveals that humans today are hard-wired to pay attention to other people and animals much more so than non-living things, even if inanimate objects are the primary hazards for modern, urbanized folks.
The researchers say the finding supports the idea that natural selection molded mechanisms into our ancestors' brains that were specialized for paying attention to humans and other animals. These adaptive traits were then passed on to us.
"We're assuming that natural selection takes a long time to build anything anew and that's why this is left over from our past," said study team member Leda Cosmides, an evolutionary psychologist at the University of California, Santa Barbara (UCSB).
Ancestor's eyes
Immersed in a rich, biotic environment, it would have been imperative for our ancestors to monitor both humans and non-human animals. Predators and prey took many different forms—lions, tigers and bears—and they changed often, so constant eyeballing was critical.
While the environment has changed since then, with high-rises emerging where forests once took root and pampered pets taking the place of stalking beasts, our instinct-driven attention has not followed suit.
"Having this pop-out attentional bias for animals is sort of a vestigial behavior," said study team member Joshua New of Yale University's Perception and Cognition Lab.
In the study, groups of undergraduate students from UCSB, watched images displayed on computer monitors. The flashing images alternated between pairs of various outdoor scenes, with the first image showing one scene and the next an alternate version of that scene with one change. Participants indicated each time whether they detected a change.
The photographs included animate categories, such as people and other animals, as well as inanimate ones, such as plants, artifacts that can be manipulated (stapler or wheelbarrow) and fixed artifacts, such as landmarks (windmill or house).
Modern hunter-gatherers
Overall, the subjects were faster and more accurate at detecting changes involving all animals compared with inanimate objects. They correctly detected nearly 90 percent of the changes to "living" targets compared with 66 percent for inanimate objects.
In particular, the students spotted changes in elephant and human scenes 100 percent of the time, while they had a success rate of just over 75 percent for photos showing a silo and 67 percent for those with a coffee mug.
Though we are more likely to meet death via an SUV than a charging wildebeest, the results indicated subjects were slower and less successful at detecting changes to vehicles than to animals.
The researchers compare our attentional bias toward animals to the appendix, an organ present in modern humans because it was useful for our ancestors, but useless now.
These results have implications for phobias and other behaviors that involve focus toward specific categories of objects over others.
"People develop phobias for spiders and snakes and things that were ancestral threats. It's very infrequent to have somebody afraid of cars or electrical outlets," New told LiveScience. "Those statistically pose much more of a threat to us than a tiger. That makes it an interesting test case as to why do tigers still capture attention."
How Does Squinting Help Us See?
Stay up to date on the latest science news by signing up for our Essentials newsletter.
Live Science Editor-in-Chief
Jeanna served as editor-in-chief of Live Science. Previously, she was an assistant editor at Scholastic's Science World magazine. Jeanna has an English degree from Salisbury University, a master's degree in biogeochemistry and environmental sciences from the University of Maryland, and a graduate science journalism degree from New York University. She has worked as a biologist in Florida, where she monitored wetlands and did field surveys for endangered species. She also received an ocean sciences journalism fellowship from Woods Hole Oceanographic Institution.