Memorial Day: Intense Storms May Rattle Central US; Calm for Most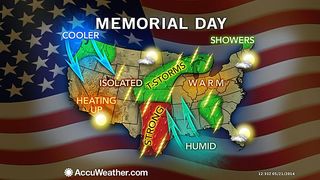 (Image credit: AccuWeather.com.)
This article was provided by AccuWeather.com.
Memorial Day weekend, the unofficial start of summer, will be tranquil and dry across much of the United States; however, there will be some areas of where Mother Nature will create a fireworks show for the holiday in the form of thunderstorms.
Slow-moving storm systems will ignite showers and thunderstorms over portions of the Plains, threatening to hamper outdoor plans, at times, on Memorial Day. In fact, some of the storms could turn heavy or strong over the Central states.
Meanwhile, much of the rest of the Northeast and mid-Atlantic are expected to dry out by Memorial Day after occasional showers hit over the weekend.
"Saturday will be beautiful (around the Great Lakes)," AccuWeather Chief Forecaster Elliot Abrams said.
However, thunderstorms may erupt across the upper Great Lakes, the southern Appalachians and Deep South, with warm afternoon sunshine setting the stage, on Sunday and Memorial Day.
With changeable and stormy weather forecast, it is crucial to pay close attention to the weather while spending time outdoors. If you hear thunder, seek shelter immediately. Leisure activities, especially fishing, top the charts for lightning fatalities each year.
Track the Minute by Minute™ Weather Forecast in Minneapolis, where storms and frequent lightning may occur, using MinuteCast™.
RELATED: Preventing Skin Cancer: Know the Facts, Myths of Sunburn Which Outdoor Activities Top the Charts for Lightning Perils? Survival Guide: Recognize Which Clouds Mean Danger
The rest of the West will stay dry for the holiday, with the exception of scattered showers dotting the Pacific Northwest.
Even where the weather will be dry and tranquil this holiday weekend, people should plan ahead and take safety precautions during outdoor recreation as well as protecting against the sun's harmful rays.
"Many of us will be engaging in physical activities this Memorial Day weekend whether it be the children playing outside, a football or basketball game or the local road race," said Dr. Sam Altstein, D.O., medical director of the Beth Israel Medical Group of the Mount Sinai Health System in New York City. "Be sure to adequately hydrate. Drink water or sports drinks before during and after physical activity."
Thousands will also spend time outdoors visiting monuments in Washington, D.C., or watching the National Memorial Day Parade, which occurs on Monday, May 26, 2014, at 2 p.m. EDT in the nation's capital.
Anyone going outdoors should apply sunscreen with an SPF of at least 15 that protects against UVA and UVB rays, Altstein said.
"Review the instructions on the bottle and reapply after vigorous exercise or swimming. Wear a wide brimmed hat to protect your face and remember the rays of the sun are strongest between 10 a.m. and 2:00 p.m., so limit your sun exposure during these hours," Altstein said.
Wear clothing that will keep you cool and also protect you from the sun, Altstein said. Consider clothes that have built-in SPF protection, especially for sun-sensitive children.
Since Memorial Day weekend marks the opening for many pools across the U.S. and many Americans head to beaches, swimming is another popular recreational activity for the holiday.
"Water temperatures are low around the Great Lakes. You will need a wet suit if you are swimming," Abrams said. "Temperatures are below normal across the Great Lakes, since there was more ice than normal during winter and it has not been excessively warm this spring."
Along the East Coast, water temperatures are also near to below normal for this time of year. Around New York City, water temperatures are only in the mid-50s, where as they would normally climb near 60 F.
According to the Centers for Disease Control, water temperatures below 70 F can cause hypothermia.
"A heated pool might be the best option if you wish to swim this holiday weekend," Abrams said.
Altstein suggested that whenever possible, people should swim in areas where there are trained lifeguards.
"Even in areas where there are lifeguards, it is important to supervise children who are in or near the water," Altstein said. "Always designate an adult who is a competent swimmer to watch the children, especially in areas where there aren't lifeguards such as back yard pools."
If you plan on kayaking or canoeing across areas that have recently been soaked by excessive rain in the East, especially across portions of New York, Pennsylvania and West Virginia, check the water levels and water conditions and take extra precautions such as wearing life jackets.
Content contributed by AccuWeather.com Staff Writer Mark Leberfinger.
AccuWeather.com. All rights reserved. More from AccuWeather.com.
Stay up to date on the latest science news by signing up for our Essentials newsletter.