World's Glaciers Are Now Mapped (All 200,000)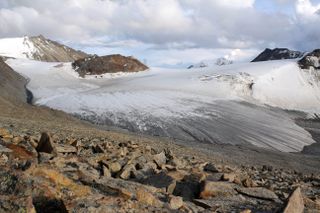 (Image credit: Tino Pieczonka (TU Dresden))
Researchers have now mapped all of the world's glaciers, which will allow them to better study the icy rivers, as well as estimate the effects of climate change on glaciers.
The researchers cataloged nearly 200,000 glaciers, although the exact number of known glaciers changes frequently because some small glaciers disappear, and large glaciers get fragmented, the researchers said.
Glaciers cover a total area of about 282,000 square miles (730,000 square kilometers) of Earth. And the inventory includes information about the location, extent and volume of every one. [In Photos: World's Glaciers Are Now Mapped (All 200,000)]
The inventory is named the Randolph Glacier Inventory (RGI), after one of the research group's meeting places in New Hampshire. More than 70 experts from more than 18 countries worked on the project, using satellite data on each glacier.
All glaciers listed in the inventory have computer-readable outlines, which helps scientists to develop programs to understand how exactly glaciers interact with climate change.
"You can model every glacier," study author Graham Cogley, a physical geographer at Trent University in Canada, told Live Science.
The researchers were inspired to complete the inventory by a recent climate change report, the Fifth Assessment of the Intergovernmental Panel on Climate Change (IPCC). "It seemed like a good idea to pull the inventory [then]," Cogley said. "We finally had a complete inventory in 2012," which the researchers keep improving, he said.
In the past 10 years, glaciers' have been contributing to sea level rise as much as melting ice sheets have, Cogley said, which is about one-third of the total extent of sea level rise.
Some regions where glaciers have been melting at a particularly alarming rate in the past 20 years include the European Alps, the Canadian Arctic and southern Alaska, he said.
In general, glaciers are losing mass almost everywhere they can be found. Glaciers in the Karakoram region of Pakistan that have been stable or even expanding are the only exception to this trend that scientists are aware of, Cogley said.
Melting glaciers affect "regional to local scale hydrology, natural hazards and livelihoods in otherwise dry mountain regions," study author Frank Paul of the University of Zurich said in a statement. "Accurate knowledge of water reserves and their future evolution is thus key for local authorities for early implementation of mitigation measures."
Follow Agata Blaszczak-Boxe on Twitter . Follow Live Science @livescience, Facebook & Google+. Original article on Live Science.
Stay up to date on the latest science news by signing up for our Essentials newsletter.