East Pacific Hurricane Season May Start Early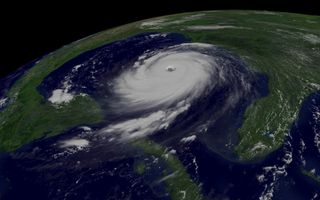 (Image credit: NOAA)
This article was provided by AccuWeather.com.
AccuWeather.com meteorologists are monitoring an area of the East Pacific for a potential tropical development this week. The usual hurricane season in the East Pacific begins on May 15, but conditions are favorable this year for an early start.
Low pressure, currently about 900 miles southwest of Acapulco, Mexico will attempt to become better organized this week as it drifts to the northeast.
Thanks to warmer-than-usual sea surface temperatures attributable to a developing El Nino in the East Pacific and relatively low wind shear, there is a chance that this area of low pressure will acquire tropical characteristics.
Current computer model guidance shows the potential track of a storm, which would be named Amanda if it reaches tropical storm strength, generally toward the middle of the Mexican Riviera with a threat for excessive rainfall and potentially strong wind for this area, including Acapulco.
However, there remains considerable uncertainty at this point, and most of our guidance currently indicates a relatively weak and disorganized storm system will approach the Mexico coastline later this week.
The reason for the northeastward track is that a storm system now moving into the western U.S. and Mexico will create a southwesterly steering flow for this system. This means that any potential tropical cyclone in this area will likely track toward southwest Mexico.
Regardless of strength, heavy rainfall will be the greatest threat from this storm. Areas from Manzanillo to Huatulco remain at greatest risk.
Some areas, including those around Acapulco, are still recovering from feet of rainfall that caused widespread flooding and deadly mudslides in September when Tropical Storm Manuel made landfall along the coastline near Manzanillo.
Manuel brought devastating impacts to both the tourist and agricultural industry of the region. An early start to the hurricane season, combined with an expected El Nino, which tends to result in more tropical storms in the Eastern Pacific, could have major impacts on the region once again.
The track of this potential storm will play a role in how intense it can get. The waters in this area are running 2-3 F (1-1.5 C) warmer than usual for this time of year, in the low to middle 80s F (28-29 C). However, the warmest waters and the greatest depth of warm waters are found over the southern end of the Mexican Riviera.
Therefore, should the storm track toward Acapulco or especially toward areas southeast of there, it has the potential to be stronger than if it were to track more toward Manzanillo or points to the northwest where waters are cooler.
At this point, residents of the Mexican Riviera and others with interests in the area should keep in touch with further developments and make sure that early preparations for the hurricane season are complete by midweek.
Meteorologist Eric Leister contributed to this story.
AccuWeather.com. All rights reserved. More from AccuWeather.com.
Stay up to date on the latest science news by signing up for our Essentials newsletter.