What is Diclofenac (Voltaren)?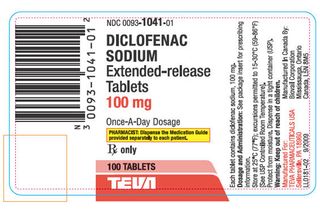 (Image credit: NIH.)
Diclofenac is a pain reliever in the drug class NSAID (non-steroidal anti-inflammatory drug). It is available both over-the-counter and by prescription in the United States. Its common brand names are Voltaren, Cataflam and Zipsor.
"Diclofenac is a similar medicine to ibuprofen or Motrin, though it's not as common or available over-the-counter," said Dr. Stephen Neabore, a primary care doctor at the Barnard Medical Center in Washington, D.C. When it comes to NSAIDs, "there's no best one, it's whatever works best for you. People have different settings and sensitivities for pain medication and pain itself," Neabore said.
Diclofenac is often used to treat pain, tenderness, swelling and stillness resulting from osteoarthritis, rheumatoid arthritis or ankylosing spondylitis (a form of arthritis that primarily affects the spine). Short-acting diclofenac (Cataflam and Zipsor) may be used to treat menstrual or other pains. Diclofenac gel or cream is sometimes used to treat actinic keratosis, a skin condition that may become cancerous if not treated. Diclofenac oral tablets or liquids may be prescribed to help with gout, joint inflammatory disease in children or young adults, and bursitis.
Diclofenac and other NSAIDs are primarily used to treat inflammatory pain rather than pain caused by trauma, said Ken Sternfeld, a New York-based pharmacist. In addition to being painful themselves, inflamed body parts, such as the disks in your spine, can put pressure on other areas and cause pain.
Recent studies, including a 2012 study in Journal of Bone and Mineral Metabolism, suggest that NSAIDs can be used in treating pain caused by broken bones and other trauma. Doctors previously thought that NSAIDs like diclofenac would harm bone healing. This is important news because narcotics are typically given to patients with trauma pain but those can lead to addiction. "I like diclofenac because it assists with pain management in a non-narcotic or addicting manner," said Sternfeld.
Forms of diclofenac
Diclofenac is available in the following oral-route forms:
capsule
powder for solution
liquid-filled capsule
tablet
enteric-coated tablet
extended-release tablet
It is available in the following topical-route forms:
gel or cream
solution
extended-release patch
Whatever form you take, Neabore and Sternfeld emphasized following the dosage instructions. "Follow the prescribing advice. If you've used it for a little while and it is not working, talk to your doctor," Neabore said. The doctor could change your type of NSAID or change the dose. Doctors often start out by prescribing lower doses in order to minimize side effects. This practice is especially common when doctors prescribe medicine for older people. "If someone is older, you don't want to give them too much right off the bat because they might have a reaction and fall down," he said.
Side effects
Stomach problems are the most well known complications of taking NSAIDs, Sternfeld said, but there are many more.
The NIH lists the following side effects of diclofenac oral as less severe, though a doctor should be consulted if they persist:
diarrhea
constipation
gas or bloating
headache
dizziness
ringing in the ears
The following are more severe side effects, and if experienced, a doctor should be consulted immediately, and use of the drug stopped:
unexplained weight gain
excessive tiredness
lack of energy
nausea
loss of appetite
itching
pain in the upper right part of the stomach
yellowing of the skin or eyes
flu-like symptoms
fever
blisters
rash
hives
swelling of the eyes, face, tongue, lips, throat, arms, hands, feet, ankles, or lower legs
difficulty breathing or swallowing
hoarseness
pale skin
fast heartbeat
cloudy, discolored, or bloody urine
back pain
difficult or painful urination
According to Sternfeld, you are less likely to experience side effects if you use a topical gel or cream form of diclofenac. "If you take it orally, it goes into your blood steam and it will work wherever it finds work to do, as opposed to a topical or targeted anti-inflammatory that you can put on exactly the spot where you have pain," he said. "When you're taking some drugs, like blood pressure drugs, you want them to work throughout your body. But with anti-inflammatories, often you don't want them to be systemic within your body. They may be helping with sciatic pain but what is it doing to other areas of your body?"
Nevertheless, side effects from topical diclofenanc can occur. The NIH lists the following side effects of diclofenac topical gel or cream as less serious, though a doctor should be consulted if they persist:
dryness, redness, itching, swelling, pain, hardness, irritation, swelling, scaling, or numbness at application site
acne
stomach pain
constipation
gas
dizziness
numbness, burning, or tingling in the hands, arms, feet, or legs
The following are more serious and, if experienced, should receive immediate doctor consultation:
hives
itching
difficulty breathing or swallowing
swelling of the face, throat, arms, hands, feet, ankles, or lower legs
unexplained weight gain
wheezing
worsening of asthma
yellowing of the skin or eyes
nausea
extreme tiredness
unusual bleeding or bruising
lack of energy
loss of appetite
pain in the upper right part of the stomach
flu-like symptoms
dark-colored urine
rash
blisters on skin
fever
pale skin
fast heartbeat
excessive tiredness
The NIH warns that patients who take diclofenac or other NSAIDs besides than aspirin may have an increased risk of heart attack, stroke, ulcers, bleeding, or holes in the stomach or intestine. It is important for patients to tell their doctors if there is a family history of heart disease, heart attack, or stroke. Patients should also inform their doctors if they smoke, have or have had high cholesterol, high blood pressure, or diabetes.
Diclofenac sodium and diclofenac potassium
There are two main forms of the medication: diclofenac sodium and diclofenac potassium.
The body absorbs diclofenac sodium more slowly, which is useful when patients need to reduce inflammation. Diclofenac sodium's brand name is Voltaren.
The body absorbs diclofenac potassium more quickly, which is useful when immediate pain relief is required. Forms of diclofenac potassium may be available over the counter in lower doses. Its brand names are Cataflam and Zipsor.
Voltaren (diclofenac sodium)
Voltaren is a prescription brand-name form of diclofenac sodium. It is available as a gel, as standard and extended release oral tablets, and as a suppository.
Voltaren Gel
Voltaren Gel is FDA-approved for treating osteoarthritis pain in joints amenable to topical treatment, such as knees, hands, wrists, feet, and elbows. It has not been studied for use on hips, spine, or shoulders.
Because the risk of side effects is lower with the topical route than with the oral one, people may be tempted to put Voltaren Gel on any place they have pain. Sternfeld advised against this. "You can only put it where the doctor prescribes," he said. "It doesn't work for headaches because they are caused from a different type of inflammation or swelling."
Voltaren Gel comes with a dosing card made of clear polypropylene. The dosing card should be used for each application. The gel should be applied within the rectangular area of the dosing card. Typical dosage is 2 grams for each elbow, wrist, or hand and four grams for each knee, ankle, or foot. Voltaren Gel is typically applied four times a day. Total usage should not exceed 32 grams per day for all affected joints.
Patients should wash their hands after application of Voltaren Gel, unless the drug is used on the hands, in which case patients should wait one hour before washing their hands. All patients should not shower or bathe for at least one hour after drug application.
"Voltaren Gel may not be as effective in the short term because it is slower acting than the oral route or other forms of diclofenac and NSAIDs," said Sternfeld.
Voltaren Oral
Voltaren Oral should be taken with water, and can be taken with food, milk, or an antacid if patients experience stomach pain. Taking it with anything but water may slow absorption and delay pain relief, however. It is important that patients do not lie down or crush, chew, or break the tablets. This can increase side effects.
Voltaren Oral can be taken on an as-needed basis or on a regular schedule, which is the more common approach to arthritis treatment. If taking it on an as needed basis, patients should use the lowest effective dose for the shortest possible length of time, in order to minimize side effects and other risks. If taking it regularly for arthritis, patients may not experience full benefits for up to two weeks.
Recreational use of diclofenac
It is not possible to get high off of diclofenac or other NSAIDs, and abuse of the drug is likely to cause serious side effects.
Additional resources
Stay up to date on the latest science news by signing up for our Essentials newsletter.