Nimble New Robot is Safe Around Humans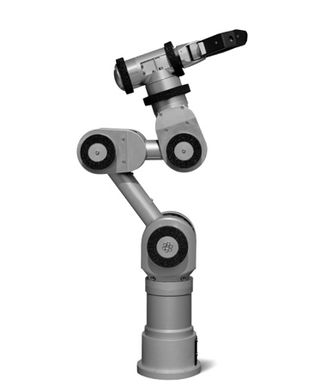 (Image credit: Neuronics)
Like the vast majority of assembly line robots, Katana is a moving arm. But that's where the resemblance ends. Unlike the hulking robotic arms used on assembly lines, Katana is designed to work next to humans.
Industrial robots often tower over their masters and move at breakneck speeds, which is why factories surround them with cages to keep workers away. When factory robots do get tangled up, built-in sensors help them disengage automatically. This keeps tightly sprung robots from abruptly unwinding on workers trying to free them.
Katana [image], on the other hand, is puny. It has a 20-inch reach, weighs only 6 to 9 pounds, and can fit inside most high school backpacks. It struggles to lift more than 1 pound. A child could grasp its small grippers and arm wrestle it to the table.
Certified safe
According to Werner Klecka of Swiss developer Neuronics AG, Katana is the European Union's first robot certified as inherently safe. Neuronics designed the small robotic arm to work with people the same way a nurse works with a surgeon.
That means changing conventional robot physiognomy. Like more powerful industrial robots, Katana uses several small motors for six- axis motion (up-down, left-right, and diagonally back-and-forth). But unlike larger robots, which need massive power supplies, it uses a laptop computer-style power supply that plugs into a wall socket.
Katana is also slow. It tops out at 3.3 feet per second. It would take 27 seconds to move the same 90 feet that New York Met Jose Reyes covers in 3 seconds when he steals second base. Unlike Reyes, Katana stops automatically when it hits anything solid.
Fast and precise
Slow and weak does not mean incapable. Katana is designed for precision work. With one conductivity, four force, and nine infrared sensors, its gripper is sensitive enough to place objects with 1/250th of an inch accuracy. An optional video camera also lets it recognize shapes.
According to Neuronics, people are using Katana to slide samples [image] under a microscope faster and more precisely than any human ever could. "The robot can move and position the slide faster and better than the inspector," Klecka said.
Katana has also been used to place and remove pressure sensors for ultrasonic welding, remove parts from molds, position inspection cameras, and shuttle test tubes in laboratories.
Best of all, Katana does not take a robot expert to set up and operate. Users can move the robot arm where they want it to go manually, and then improve their rough positioning using control software. The robot comes with neuronal software that actually learns on the job and gradually improves Katana's ability to make decisions.
The cost? About $25,000 including robot, gripper, and software. Yet as Klecka notes, you won't have to spend a dime building a fence to keep workers away.
Gallery: Cutting-Edge Robots
Real Robots: VOTE for Your Favorite
Stay up to date on the latest science news by signing up for our Essentials newsletter.