Bad to the Bone: Dealer Pleads Guilty in Fossil Smuggling Scheme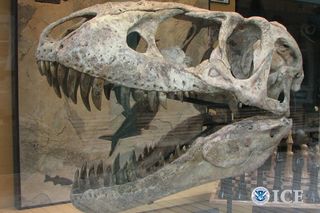 (Image credit: U.S. Immigration and Customs Enforcement.)
The feds have unearthed a trove of fossils brought into the United States illegally. An investigation of a Wyoming fossil dealer uncovered dozens of fossils from Mongolia and China, countries that prohibit their export.
The Wyoming dealer, John Richard "Rick" Rolater, pleaded guilty on Thursday (Jan. 2) to charges he conspired to smuggle fossils into the United States with the intent of selling them. Rolater, 69, owns two stores called By Nature Gallery, where he sells fossils and other items.
The investigation of Rolater led the feds to seize the fossils, which include three skulls from a prehistoric predator known as Tarbosaurus bataar, an Asian relative of Tyrannosaurus rex. Clearly identifiable Tarbosaurus fossils have been found only in a rock formation exposed in Mongolia, paleontologists say. The list also includes fossils from Mongolian Protoceratops, and from four-winged microraptors and dinosaur eggs from China. [See Photos of Amazing Dinosaur Fossils]
Rolater had no idea he was risking prosecution by selling fossils from these countries, said Pat Crank, Rolater's attorney.
"Prior to this investigation, Rick advertised Mongolian and Chinese fossils on his website and had bataar skulls in the windows of his stores," Crank said. "I don't think anyone believed it was illegal."
Indeed, fossils from Mongolia and China were freely bought and sold in the United States. But an international custody battle over a Tarbosaurus bataar skeleton changed that. The fight over the dinosaur gave rise to criminal charges against a Florida man, Eric Prokopi, who pleaded guilty in December 2012 to smuggling and other charges. This case was a "watershed event" for people involved in the commercial fossil industry in the United States, Crank said.
The fossils seized as part of the Rolater investigation, like those seized in the Prokopi case, will be returned to their countries of origin, according to officials.
Rolater's case began in June 2012 after a tip to a hotline informed investigators Rolater was selling a Tarbosaurus skull. At about this time, Prokopi's case was making headlines. Prokopi had attempted to sell the skeleton, which he had prepared and mounted, but news of the sale sparked protest from Mongolian President Tsakhia Elbegdorj, who said the fossils were likely taken illegally from his country.
Rolater had been displaying one Tarbosaurus skull in his Jackson, Wyo., store window, but it disappeared. Agents discovered the skull hidden in a closet of a home owned by Rolater and occupied by the store's director, according to a Homeland Security Investigations (HSI) press release.
HSI agents later found a second skull, this one from a juvenile Tarbosaurus, tucked into a crawl space in Rolater's Eagle, Colo., home, HSI announced.
Crank took issue with this version of events, saying investigators had previously contacted Rolater asking for the specimens, and that Rolater had put the items aside for safekeeping. "It makes no sense he would hide them," Crank said.
A third Tarbosaurus bataar skull, which Rolater had sold, was seized from Wichita Falls, Texas, this past July, said Special Agent Buckley J. Thomas, resident agent in charge of HSI Cheyenne, Wyo. Investigators hope to take possession of more fossils Rolater dealt, Thomas told LiveScience.
Rolater had no substantive connection to Prokopi, Thomas said. "We believe Rolater had a different source for his fossils than Prokopi did," and Prokopi did not provide information that led to charges against Rolater, he said.
Rolater pleaded guilty to conspiring with a "Chinese supplier" to smuggle Chinese fossils into the United States with plans to sell them. In a deal with the U.S. Attorney's Office for the District of Wyoming, he has agreed to serve two years' supervised probation and pay a $25,000 fine.
Rolater's formal sentencing won't take place until March, Crank said. Both the Mongolian and Chinese fossils recovered from Rolater will be returned to their respective countries of origin, officials said.
"From the Mongolian perspective, there is some excitement to see that the U.S. government is continuing to uphold its attention and commitment to stopping the illicit fossil trade, and it wasn't just a one-hit wonder with Prokopi," said Robert Painter, the Houston-based attorney who represents the Mongolia leader Elbegdorj.
Mongolia is establishing its first dinosaur museum, which will house repatriated specimens. More than two dozen fossils recovered from Prokopi and the English fossil dealer Chris Moore are in New York awaiting return to Mongolia, Painter said.
Follow LiveScienceon Twitter @livescience. We're also on Facebook & Google+. Originally published on LiveScience .
Stay up to date on the latest science news by signing up for our Essentials newsletter.
Wynne was a reporter at The Stamford Advocate. She has interned at Discover magazine and has freelanced for The New York Times and Scientific American's web site. She has a masters in journalism from Columbia University and a bachelor's degree in biology from the University of Utah.