Major Blizzard Visible from Space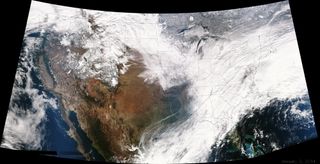 (Image credit: NOAA/NASA)
The winter storm that lashed the Midwest and Northeast over the last couple of days and has left a blanket of snow in its wake also brought with it sub-zero, bone-chilling winds that are keeping the snow fresh and frozen. The storm's huge expanse across nearly two-thirds of the country was clearly visible in satellite imagery.
The blizzard — which produced white-out conditions with gusts of winds reaching greater than 39 mph (63 km/h) in some regions — brewed overnight as two weather systems, one bringing cold air from Canada and the other moist air from the Gulf of Mexico, collided over the eastern portions of the country yesterday. [The Snowiest Places on Earth]
"One storm was moving from the west to east with some limited moisture and atmospheric energy and as that storm was moving across the country, it was basically transferring energy to a brand new storm that has taken over and has been strengthening overnight," Chris Vaccaro, a spokesman for the National Weather Service, told LiveScience.
The National Weather Service commonly uses satellite imagery to track the path and extent of storms and to collect atmospheric data that they use to produce storm forecasts. Vaccaro said that, while imagery from this storm is impressive, it is not uncommon to see storms this large at this time of the year.
"It is a disruptive storm on the roads and airports, but we are not necessarily seeing a crippling snowstorm," Vaccaro said, comparing it to a larger blizzard that hit the Northeast in February 2013 and dumped between 2 to 3 feet (0.5 to 1 meter) of snow on parts of New England.
Most accumulation readings for this week's storm have hovered below 12 inches (30 centimeters) across the country this morning, though parts of coastal Massachusetts experienced maritime effects that brought more moisture and dumped closer to 24 inches (60 cm) of powder.
The National Weather Service will continue analyzing National Oceanic and Atmospheric Administration (NOAA) satellite imagery throughout the rest of the day today to track the extent of snow cover, which Vaccaro said should be made easier as clouds part and the storm travels northeastward into the Canadian Maritimes.
Editor's note: This story was update to correct the source of the satellite imagery, which was NOAA.
Follow Laura Poppick on Twitter. Follow us @livescience, Facebook & Google+. Original article on LiveScience.
Stay up to date on the latest science news by signing up for our Essentials newsletter.
Laura Poppick is a contributing writer for Live Science, with a focus on earth and environmental news. Laura has a graduate certificate in science communication from the University of California, Santa Cruz, and a Bachelor of Science degree in geology from Bates College in Lewiston, Maine. Laura has a good eye for finding fossils in unlikely places, will pull over to examine sedimentary layers in highway roadcuts, and has gone swimming in the Arctic Ocean.