Can Meditation Affect Your Genes?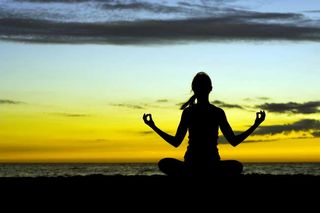 (Image credit: Dreamstime)
There's a large and growing body of evidence that psychological stress — the kind experienced by war orphans, caretakers of people with dementia, and men and women with post-traumatic stress disorder (PTSD) — can cause genetic damage.
But if psychological stress can cause genetic damage, can stress-relieving activities such as meditation and mindfulness training help reduce genetic damage?
Perhaps: A recent study seems to suggest that a period of meditation might alter the expression of genes that are linked to inflammation and promote a faster recovery from a stressful situation. [7 Diseases You Can Learn About From a Genetic Test]
Researchers at the University of Wisconsin-Madison took blood samples from 40 volunteers — 19 of whom were long-term meditators — before and after an eight-hour session. The group of experienced meditators spent the session in guided and unguided meditation; the other group watched documentaries, read and played computer games.
The role of inflammation
There was no significant difference in genetic markers between the two groups at the start of the eight-hour test period. However, at the end of the day, researchers found reduced expression of certain histone deacetylase (HDAC) genes and of the genes RIPK2 and COX2 — all of which are linked to inflammation.
These findings are important because of the role inflammation plays in the progress and treatment of disease. Recent research has found that chronic inflammation may be at the core of diseases such as rheumatoid arthritis, asthma, heart disease, lupus, cancer, ulcerative colitis and Crohn's disease.
"The changes were observed in genes that are the current targets of anti-inflammatory and analgesic [pain-relief] drugs," Perla Kaliman, lead author of the article (published in the journal Psychoneuroendocrinology) and a researcher at the Institute of Biomedical Research of Barcelona, Spain, said in a statement.
Improved stress management
In a stress test, the volunteers were forced into an impromptu public-speaking role involving mental arithmetic performed in front of two judges and a video camera. Levels of cortisol — a hormone associated with high stress levels — were measured before and after the stress test.
Among both groups of volunteers, those participants with the lowest levels of RIPK2 and HDAC-2 genes had the quickest return to normal, pre-stress test levels of cortisol.
"To the best of our knowledge, this is the first paper that shows rapid alterations in gene expression within subjects associated with mindfulness meditation practice," study co-author Richard J. Davidson, professor of psychology and psychiatry at the University of Wisconsin-Madison, said in the statement.
Lifestyle and genetics
This recent study supports other research that seems to indicate there's real, measurable benefit to lifestyle modifications like stress reduction.
A 2013 study from the University of California, San Francisco (UCSF), found that men who ate a better diet, exercised moderately and led a less-stressful lifestyle for a few years had an increase in the length of their telomeres — the caps at the ends of chromosomes that protect them from deterioration.
And a study from Carnegie Mellon University in Pittsburgh found that adults with shorter telomeres were at an increased risk of catching the common cold compared with people with longer telomeres.
Though some may find the proposed link between meditation and genetics a bit far-fetched, a growing number of experts believe the association is real. "It is well established that chronic stress and acute stress are associated with both greater inflammatory proteins as well as gene expression of inflammatory pathways," said Elissa Epel, professor of psychiatry at UCSF.
"Inflammation is thought of as 'inflam-aging,' since it is a major factor regulating cellular aging and many chronic diseases," Epel said. "It's crucial to find behavioral factors that can prevent the rising tide of inflammation as we age. Meditation and mindfulness training in daily life should be high on the list of promising anti-aging interventions."
The University of Wisconsin-Madison study was funded by grants from the National Center for Complementary and Alternative Medicine of the National Institutes of Health (NIH), the Fetzer Institute, the John Templeton Foundation and an anonymous donor.
Follow Marc Lallanilla on Twitter and Google+. Follow us @livescience, Facebook & Google+. Original article on LiveScience.
Stay up to date on the latest science news by signing up for our Essentials newsletter.
Marc Lallanilla has been a science writer and health editor at About.com and a producer with ABCNews.com. His freelance writing has appeared in the Los Angeles Times and TheWeek.com. Marc has a Master's degree in environmental planning from the University of California, Berkeley, and an undergraduate degree from the University of Texas at Austin.