Seth Shulman is a senior staff writer at the Union of Concerned Scientists (UCS), a veteran science journalist and author of six books. This article is adapted from one that appeared in Shulman's column 'Got Science?'. Shulman contributed this article to LiveScience's Expert Voices: Op-Ed & Insights.
With partisan brinksmanship in the U.S. Congress grabbing the media spotlight at the moment, it is worth noting that last month a noncontroversial bill authorizing the president to appoint an annual "science laureate" was moving swiftly through the House of Representatives and Senate with broad bipartisan support. The bill had been scheduled for a floor vote in the House in September and was expected to pass easily. What happened next, though, deserves a closer look.
A spokesperson for science
The idea of the bill was to highlight the importance of science to the nation while honoring some top scientists in the process. The House and Senate versions were sponsored by legislators on both sides of the aisle. On the House side, the bill was co-sponsored by Rep. Lamar Smith (R-TX), chair of the House Science, Space and Technology Committee, and Rep. Zoe Lofgren (D-CA).
"America needs a spokesperson for science," Reps. Lofgren and Smith wrote in a letter urging their colleagues' support for the bill. "We have a poet laureate who writes poetry and promotes literature as a national figure. We also have a Surgeon General who can speak to the nation on health care…A science laureate would be both an award for an exceptional scientist, and a pedestal from which that scientist could speak to the nation."
For most members of Congress, regardless of political persuasion, the bill seemed like a good idea — and elected officials from both parties found a variety of reasons to support it. Sen. Roger Wicker (R-MS), who co-chairs the Senate caucus on STEM (science, technology, engineering and math education) education, emphasized that, by prioritizing science, the science laureate might aid in efforts to keep U.S. students more internationally competitive in science and math. Sen. Mazie Hironi (D-HI), a sponsor on the Senate side, argued that the science laureate might serve as a role model who could empower students — especially girls and minorities — to get excited about science.
Plus, the science laureate, as proposed, would be an unpaid position, costing taxpayers nothing.
So what happened to derail such a nonpartisan and noncontroversial idea?
Enter the disinformation lobby
According to a variety of sources, Republican support for the bill evaporated after an outcry from a vocal lobbyist named Larry Hart at the American Conservative Union (ACU). Spotting the science laureate bill on the list of items slated to bypass committee deliberation for a vote on the House floor, Hart wrote a strongly worded letter to Republican legislators urging them to oppose the bill.
Hart's intervention speaks volumes about what's wrong with U.S. politics these days. His group falls squarely in the climate disinformation camp. The organization's board, for instance, includes Joe Bast, President of the Heartland Institute, famous for its blatant corporate-funded disinformation on tobacco, climate and renewable energy; and Fred L. Smith, Jr. from the Competitive Enterprise Institute, also notorious for its climate disinformation work.
By now, Americans know all about those groups' cynical disinformation tactics, which include underhanded techniques honed by tobacco companies to try confuse the public about the dangers of cigarette smoking. Many of the same groups, now underwritten by fossil-fuel interests, are working actively to try to confuse the public about the realities of climate science, renewable energy and other issues.
As notable as the source of the vocal opposition to the science-laureate bill, though, is the starkness of the argument Hart made. A science laureate, Hart wrote, would allow President Obama to appoint someone "who will share his view that science should serve political ends on such issues as climate change and regulation of greenhouse gases."
The science laureate, Hart was warning, might talk about the overwhelming evidence from climate scientists around the world that the Earth is warming due to human activity, causing sea level to rise and making extreme weather more commonplace — from heat waves and drought to wildfires and floods.
In other words, Hart was saying, he or she might talk about what the science actually shows on this issue. But, of course, that is precisely the idea of having such a position — to draw attention to the vital role science plays in U.S. society and our economy, and informing decision makers about the complex issues before them. On climate or other matters, doesn't it make sense for top scientists to speak out about what the evidence shows? Apparently not to Hart and his corporate-funded disinformation echo chamber.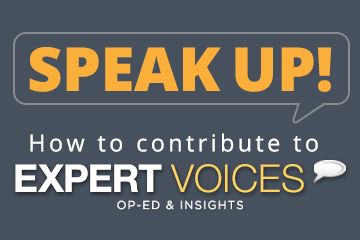 "Opportunity to pontificate"
Right on cue after Hart's complaint, other dis-informers chimed in as well. Myron Ebell of the Competitive Enterprise Institute was even balder in his statement. "There's no way to make [the science laureate bill] work," Ebell told a reporter from Science. "It would still give scientists an opportunity to pontificate, and we're opposed to it."
Of course, the notion of scientists speaking out about the importance of science had previously been a feature of the proposed bill that had garnered bipartisan support just days beforehand.
To their credit, some members stuck to their guns. "This is not a presidential appointment, and there would be no taxpayer money involved," said an aide for Randy Hultgren (R-IL) who had co-sponsored the bill. "This bill is simply a chance to show our children that discovery science is important and that science can be an exciting and rewarding career."
But such resistance was insufficient and the bill in the House was remanded to committee where, according to several staffers, it is unlikely to reemerge this session.
Persuasive language
In many ways, the demise of the science laureate bill shares the dynamics of the government shutdown, in which extremist views far from the mainstream are allowed to derail common sense and the will of the majority. But don't take my word for it. Judge for yourself the extent to which you're persuaded by the language of the bill itself, H.R. 1891, which states:
"Scientific research and advancement has driven success in the United States and global success for centuries.
"Scientific research has saved, improved, and extended lives, increased the standard of living, expanded economic opportunity and advanced human understanding.
"Scientific education is a critical element of preparing our nation and our citizens for a technology-intensive future and ensuring that the United States remains the world leader in innovation and high-tech success.
"A spokesperson who can embody, demonstrate, and articulate the importance and excitement of scientific research and education will help improve the current and future state of science to the benefit of all people in the United States."
Really, does that sound like legislation you would oppose?
Shulman's most recent Op-Ed was "Clearing the Pathway: Deadly Lung Disease Can Be Prevented." This Op-Ed was adapted from "Who's Afraid of a "Science Laureate" on his UCS blog Got Science?. The views expressed are those of the author and do not necessarily reflect the views of the publisher. This version of the article was originally published on LiveScience.