Colorado Disaster: What Is a 100-Year Flood?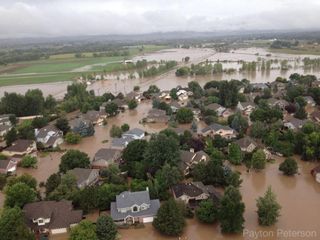 (Image credit: Payton H. Peterson.)
A massive amount of rain has fallen in the region surrounding Boulder, Colo., causing widespread flooding that's killed at least three people and taken out roads and houses, according to news reports. The event has sent 20-foot "walls of water" rushing down mountainsides, destroying bridges and isolating entire towns, Boulder County Sheriff Joe Pelle said in a statement.
The extreme rain and flooding in Colorado was caused when a slow-moving weather system sucked in an unusually large mass of moist air from the Gulf of Mexico, and has been called a "100-year storm." That terminology is a little confusing, though, and requires some explanation.
100-year flood
A 100-year flood or storm is an event that has a 1 percent chance of occurring in any given year, said Robert Kimbrough, a hydrologist at the U.S. Geological Survey (USGS) in Colorado. Provisional data from a gauge on Boulder Creek, which runs through the town of Boulder, suggests that the flash flood that occurred there had about a 1 percent chance of occurring — thus, a "100-year-flood."
But the USGS doesn't use that term anymore. "The reason we got away from '100-year flood' terminology is because people mistakenly thought it's one that only happens every 100 years," Kimbrough told LiveScience. Instead, the new term is a "one percent annual exceedance probability flood," he said. Though he acknowledged the term doesn't exactly roll off the tongue, it more accurately describes how the term is calculated, he said. [In Images: Extreme Weather Around the World]
Likewise, a 1,000-year flood has a 0.1 percent chance of occurring each year. And a 50-year flood has a 2 percent chance of happening yearly in a given location, Kimbrough added.
While provisional data has been collected from one river gauge, it will take a while to analyze the data collected at scores of gauges around the state, Kimbrough said. Until that happens, it will be difficult to properly quantify the flooding, he said. But Kimbrough did say that it's been the worst in the area since at least the late 1930s.
So-called 100-year floods or rains are very specific to certain locations, said Nolan Doesken, the Colorado state climatologist. Certain areas around Boulder are likely experiencing "100-year floods" or worse, but others aren't, he said. When it comes to rainfall (or snowfall), the duration of the event also must be mentioned. The 10 inches (25 centimeters) of rain that Boulder received in the last 24 hours definitely has less than a 1 percent chance of occurring, Doesken said. (The rain gauge at the National Weather Service's Boulder office had measured 12.3 inches (31 cm) of rain over about two days as of yesterday — their previous record was 5.5 inches (14 cm) that fell over an entire month.)
Destroyed river gauges
The Satellite Blog of the Cooperative Institute for Meteorological Satellite Studies has said the downpour could be classified as a 1,000-year event, or one that has a 0.1 percent chance of happening. But Doesken noted that this kind of terminology can be problematic, because one needs a lot of data to be able to talk about how likely something is to happen over a long period.
"It's argued that to have a reasonable estimate of a 100-year storm, you'd like to have a couple hundred years of data," he said. "And of course that's a rare thing in the United States." By extension, that means that it would be best to have at least 1,000 years of data before accurately calling something a "1,000-year storm." [Colorado Flood Photos: 100-Year Storm]
Perhaps ironically, the flooding has been so bad that it destroyed three to five river gauges designed to measure floodwaters, Kimbrough said. "One gauge was totally swept away when the river bank collapsed," he said.
Flooding has also prevented researchers at the University Corporation for Atmospheric Research (UCAR) from getting to work — the offices of this large climate research center are closed.
Whence the rain?
Jeff Weber, a scientist who works at UCAR and lives in Boulder (and whose basement flooded), said all this rain has come as the result of an unusually stationary low pressure system centered over Utah, paired with a high pressure system to the east. This confluence of patterns has sucked in a huge mass of warm, tropical moisture from the Gulf of Mexico and pushed it toward the west. But the Rocky Mountains happened to get in the way — as the air is pushed up, moisture has condensed and fallen out as rain.
"We're dealing with a tropical air mass in a mountainous environment, and that's just a disaster," Weber said. "As the air is pushed up by the mountains, it squeezes out all the rain."
The heavy rain looks likely to subside by this afternoon (Sept. 13), and while some isolated storms are expected this weekend, next week should be dry, he said.
Email Douglas Main or follow him on Twitter or Google+. Follow us @livescience, Facebook or Google+. Article originally on LiveScience.
Stay up to date on the latest science news by signing up for our Essentials newsletter.
Douglas Main loves the weird and wonderful world of science, digging into amazing Planet Earth discoveries and wacky animal findings (from marsupials mating themselves to death to zombie worms to tear-drinking butterflies) for Live Science. Follow Doug on Google+.