Wildfire Burn Scars Worsen Colorado Flooding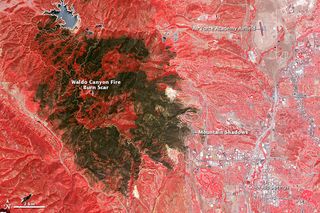 (Image credit: NASA.)
Boulder, Colo., is getting absolutely drenched — since last night (Sept. 11), an incredible 5 to 10 inches (13 to 25 centimeters) of rain have fallen in the city and its surrounding areas, and the deluge continues.
The downpour has caused flash floods throughout the Boulderarea and killed two people, according to news reports. Many roads throughout the area are impassible, and most businesses and schools throughout the region have closed.
But one factor has made the flooding considerably worse: the wildfires that have stricken the forests in the region in the past few years, said Kari Bowen, a meteorologist with the National Weather Service (NWS) office in Boulder.
"When you have a dense forest with undergrowth, you have plants and things to trap moisture and rain," Bowen told LiveScience. "But when it's gone, you have nothing to catch it." The fire also makes the ground almost hydrophobic, or water-repelling, and these effects can last 10 to 15 years, she added. [Photos: Devastating Colorado Wildfires]
This means that when large quantities of rain fall, the water runs off the ground as it would off a sheet of metal. Even a half inch (1.3 cm) of rain can cause flooding when it falls in a short amount of time, not to mention the current onslaught of precipitation, Bowen said. The mountainous topography of the area worsens the flooding, channeling it into valleys and sending it screaming down the slopes.
Perhaps unsurprisingly, then, the flooding is worse in some areas that have seen forest fires in recent years, including the High Park area and Waldo Canyon, the scene of fires of the same name in June 2012. The Waldo Canyon fire was the worst in the state's history to that date, burning more than 18,000 acres (7,300 hectares) near Colorado Springs and destroying more than 300 homes.
The burn scars from these fires are also at increased risk of debris flows and mudslides for the same reason: Water quickly runs off, and there are fewer plants to hold rocks and soil in place. "The water carries soil and rocks and dead trees, and causes a lot of destruction," Bowen said.
So far, there have been reports of debris washing out roads in the High Park area, Bowen said. Another place that saw wildfires, the Fourmile Canyon burn area, has multiple roads out due to flooding and debris, according to the NWS. That fire occurred in September 2010, 5 miles (8 kilometers) from downtown Boulder, and burned 6,181 acres (2,501 hectares).
Bowen said residents should stay inside and "shelter in place," if possible.
"We're just trying to stay on top of this thing and help keep people safe," she said.
Email Douglas Main or follow him on Twitter or Google+. Follow us @livescience, Facebook or Google+. Article originally on LiveScience.
Stay up to date on the latest science news by signing up for our Essentials newsletter.
Douglas Main loves the weird and wonderful world of science, digging into amazing Planet Earth discoveries and wacky animal findings (from marsupials mating themselves to death to zombie worms to tear-drinking butterflies) for Live Science. Follow Doug on Google+.