Four Need-to-Know Changes as 2013 Hurricane Season Ramps Up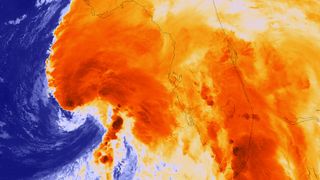 (Image credit: NASA/NOAA)
This article was provided by AccuWeather.com.
Extreme weather events caused $110 billion in damages in 2012 making it the second costliest year on record, according to NOAA. Superstorm Sandy caused the brunt of that cost, resulting in approximately $65 billion dollars in damage.
This year, as Atlantic hurricane season ramps up, NOAA is implementing a few big changes. Below are the ones that could affect you as we enter the peak of the season:
1. Enhanced Computer Power Will Allow for More Precise Forecasts
The National Weather Service (NWS) underwent a major upgrade to their supercomputers this year that more than doubled their computing capacity. According to the agency, this has made them twice as fast in processing computer models, and will allow them to provide more accurate forecasts further out in time. With improved forecasts anticipated, the NWS has decreased the size of their forecast cone for tropical systems, resulting in a more specific track map for storms.
RELATED: AccuWeather.com Hurricane Center Atlantic Expected to See Sudden Uptick in Storms NYC, Miami Expand Hurricane Evacuation Zones for 2013 Season
2. A New Symbol Will Represent Tropical Depressions
The National Hurricane Center (NHC) has done away with the old symbol that indicates a tropical depression and replaced it with a hollow circle.
3. Hurricane and Tropical Storms Watch and Warnings Are Redefined
After Superstorm Sandy, the NWS made the decision to modify the hurricane and tropical storm watch and warning definitions to allow them to be used after a system has become post-tropical. Additionally, they now have the option to continue issuing advisories after a system has become post-tropical, in the case that it continues to pose a significant threat to life and property. With this change, the public can anticipate seeing more advisories, continuing awareness of potential threats long after the term "hurricane" or "tropical storm" is discontinued.
4. Tropical Weather Outlooks Will Now Look Forward Five Days
As of Aug. 1, the NHC will now be providing tropical outlooks that look five days forward. A tropical outlook indicates where disturbed weather is located and where there is potential for tropical development. Previously, the outlook only extended 48 hours out. This is the first change in the outlook time period in several decades, according to the NHC.
© AccuWeather.com. All rights reserved. More from AccuWeather.com.
Stay up to date on the latest science news by signing up for our Essentials newsletter.