City Living May Boost Risk of Postpartum Depression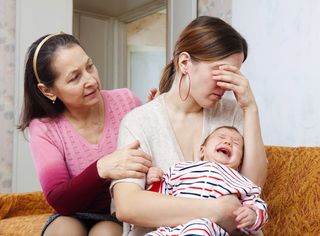 (Image credit: <a href='http://www.shutterstock.com/pic.mhtml?id=127035653&src=id'>Post-partum depression photo</a> via Shutterstock)
Women living in large urban areas may face a higher risk of developing postpartum depression, a new study reports.
Researchers found that the rate of pregnancy-related depression among women who lived in large Canadian cities was nearly 10 percent, compared with 6 percent among new mothers in rural areas.
"That's a pretty substantial difference," said study researcher Dr. Simone Vigod, a psychiatrist at Women's College Hospital in Toronto. "Almost one in 10 women in urban areas is at risk for postpartum depression, versus one in 20 women in rural areas."
"Women in larger urban areas might be at higher risk due to social isolation," Vigod said. Cities also had larger populations of recent immigrants, and being new to a country can contribute to feelings of diminished social support.
A new mother might feel alone and overwhelmed if she does not have someone around to reassure her, if she lacks a supportive partner or lives far away from her family.
The findings are published online today (Aug. 6) in the Canadian Medical Association Journal.
Residence influences risk
New mothers commonly experience the "baby blues," but postpartum depression is more serious. Moms can have strong feelings of sadness, anxiety and doubts about their ability to care for their newborn.
To determine whether a woman's place of residence affects her risk of pregnancy-related depression, researchers reviewed data collected from a Canada-wide study of about 6,100 new mothers who gave birth in 2006. Participants completed a 10-item questionnaire designed to identify postpartum depression. [Blossoming Body: 8 Odd Changes That Happen During Pregnancy]
Researchers classified a woman's place of residence based on its population: Those with at least 500,000 inhabitants were considered cities; semiurban locations had a population between 30,000 and 499,999 residents; semirural communities had fewer than 30,000 people and rural areas had fewer than 1,000 inhabitants.
The study found that the rates of postpartum depression in semiurban and semirural locations fell between the postpartum-depression rates in cities and rural areas. About 7 percent of new mothers in Canada's semirural regions, and roughly 5 percent in suburban locations, reported symptoms of pregnancy-related depression. (These rates are all lower than the 13 percent rate of postpartum depression typically seen in developed countries.)
The researchers factored in whether new mothers living in small towns commuted into metropolitan settings, which could influence feelings of social connectivity.
The results revealed that women living in cities were unique in several ways: They were slightly older, and had the highest percentage of new mothers who were not born in Canada — a factor that may help explain why they felt a lower degree of social support.
"A lower level of perceived social support while pregnant and after delivering is a major predictor of postpartum depression," Vigod said.
City living
The study also found that city dwellers were slightly less likely to previously have had depression, compared with new mothers in rural, small-town or suburban locations.
"If women were reporting a lower risk of depression in urban areas, it's even more surprising to see higher rates of postpartum depression there," Vigod said, because a prior history of depression tends to put women at greater risk for pregnancy-related depression.
Although the study was done in Canada, Vigod suspects there would be similar findings in American cities.
"I think the individualistic culture in large urban areas is probably very similar in Canada and the United States," she said. Cities in both countries often have large immigrant populations, and very stressed people, Vigod explained.
However, she noted that other characteristics of the various populations may be contributing to the higher postpartum-depression rates.
Despite the increased risk some women face, "postpartum depression is a treatable and preventable illness," Vigod said.
Therefore, by understanding the barriers women face in seeking help for pregnancy-related depression and making treatment more culturally acceptable in immigrant communities, health care professionals can better design outreach programs for high-risk groups.
Follow LiveScience @livescience, Facebook &Google+. Original article on LiveScience.com.
Stay up to date on the latest science news by signing up for our Essentials newsletter.
Cari Nierenberg has been writing about health and wellness topics for online news outlets and print publications for more than two decades. Her work has been published by Live Science, The Washington Post, WebMD, Scientific American, among others. She has a Bachelor of Science degree in nutrition from Cornell University and a Master of Science degree in Nutrition and Communication from Boston University.