75 New Animal Welfare Laws, and Counting (Op-Ed)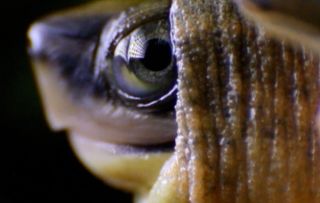 (Image credit: Wildlife Conservation Society)
Wayne Pacelle is the president and chief executive officer of The Humane Society of the United States (HSUS). This Op-Ed first appeared on the blog A Humane Nation, where it ran before appearing in LiveScience's Expert Voices: Op-Ed & Insights.
I thought Nicholas Kristof was right on point this week in his wide-ranging column about animal protection as a critical moral question in today's society. Society will indeed look back on this time, as Kristof says, and wonder how humanity could have been so callous and cruel in its treatment of innocent and vulnerable creatures.
In addition to the myriad ways in which people exploit or assault animals — in the form of factory farming, puppy mills, seal clubbing, animal fighting, horse soring and so many other abuses — there are also so many attempts by animal-use industries to thwart reform and to slow and complicate the journey forward.
Those industries work to pass ag-gag laws, making it a crime to take pictures of animals in confinement or in slaughterhouse lines; to enact constitutional amendments to establish a right to (factory) farm or to hunt, including by defending the most egregious practices; to make it very difficult to qualify or pass animal welfare ballot measures by raising signature-gathering minimums or imposing supermajority passage requirements; and by other means.
In short, just as civil-rights campaigners, women's advocates and other social reformers faced backlash as they pressed ahead with calls for fairness and decency in pursuit of their noble goals, those protecting animals are often met with fierce resistance and even violence.
Yet, with all of the challenges facing those who protect animals, as a movement we are making unmistakable progress. This year, state lawmakers have passed more than 75 new state laws to help animals. I reported last week that animal welfare advocates succeeded in blocking all 11 ag-gag bills introduced this year. Kristof wrote of the documentary "Blackfish" as a way of educating millions about the plight of captive orcas — just one more expression of the work of artists, producers and authors in spreading the word about animal issues and enlightening the public.
Last week, I posted a document on the HSUS website that lays out how our social reform efforts are driving transformational change in all of the major areas in which we conduct our work. Please take a look at it, and take pride in it. Now that we have accomplished these goals, surely we can be catalysts for even greater change for the better.
Pacelle's most recent Op-Ed was Step-by-Step Progress Protecting Tennessee Walking Horses. This article was adapted from 75 New Animal Welfare Laws This Year, and Counting, which first appeared as on the HSUS blog A Humane Nation. The views expressed are those of the author and do not necessarily reflect the views of the publisher. This article was originally published on LiveScience.com.
Stay up to date on the latest science news by signing up for our Essentials newsletter.