Sun Finally Sets in Barrow, Alaska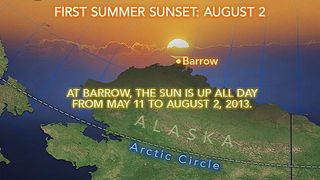 (Image credit: AccuWeather.com)
This article was provided by AccuWeather.com.
This summer has been unusually warm across the Last Frontier. So far this summer, temperatures in Barrow and Anchorage have averaged approximately 2.7 degrees above average, while temperatures in Fairbanks have averaged nearly 4 degrees above average.
Although Anchorage has averaged above normal, the city has yet to break any daily temperature records this summer. The persistent warmth has managed to break a different type of record for the city, however.
Over the past 16 days, Anchorage has either reached or climbed above 70 degrees F. This breaks the old record of set in 2004 when the city had a stretch of 13 consecutive days of at or above 70.
In Fairbanks, the high soared to 84 degrees on Thursday. The high has reached 80 degrees F or higher for 31 days this summer. That is the most such days in Fairbanks, since record-keeping began in 1904. The average number of days Fairbanks reaches 80 degrees or warmer is 11. Currently, this summer is ranked as the second warmest for the city, falling behind the warm summer of 2004.
This warmer weather has also contributed to development of lightning-producing thunderstorms that ignited of dozens of wildfires burning across Alaska over the past few weeks. According to the Alaska Interagency Coordination Center, there are currently 76 active wildfires across the state.
RELATED: National Weather Forecast Drought-Weakened Trees More Likely to Die in Fires Alaska Weather Map
This trend in warmer weather will come to an end early next week as a dip in the jet stream will bring the return of more seasonable temperatures across the state.
© AccuWeather.com. All rights reserved. More from AccuWeather.com.
Stay up to date on the latest science news by signing up for our Essentials newsletter.