Death Valley Heat to Approach All-Time World Record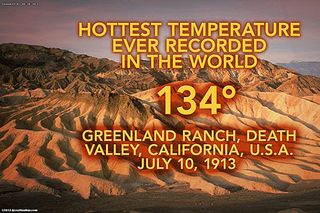 (Image credit: AccuWeather.com)
This article was provided by AccuWeather.com.
The heat across the West is so intense that Death Valley will approach the world's hottest temperature record. Close to 100 years after setting the world's all-time record high, temperatures in Death Valley are expected to dangerously soar to 130 degrees Monday.
The record is currently 134 degrees from July 10, 1913, and was given back to Death Valley in September 2012 after a World Meteorological Organization panel determined that the temperature of 136 degrees registered at El Azizia, Libya, on September 13, 1922, was invalid. [Could You Fry an Egg on the Sidewalk in Death Valley?]
Even though the world's all-time record high should remain untouched, Death Valley's record temperature for the first day of July could fall victim to these scorching temperatures. The current record stands at 125 degrees, set back in 1990.
RELATED: Historical Heat Wave Turns Deadly in Las Vegas Death Valley Weather Page Forecast Temperature Maps
© AccuWeather.com. All rights reserved. More from AccuWeather.com.
The only sure thing about weather forecasts is that they're wildly different all over the planet. Test your knowledge on the wild ranges in temperature, precipitation and more.
Extreme Weather Facts: Quiz Yourself
Stay up to date on the latest science news by signing up for our Essentials newsletter.