Valley of the Penitents: Big Pic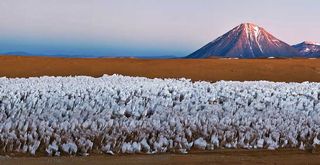 (Image credit: ESO/B. Tafreshi)
Oct. 1, 2012 -- Under the gaze of the majestic Licancabur volcano, Chile's Chajnantor Plateau hosts a congregation of frozen penitentes -- jagged formations of ice that are found only in such high, dry locales.
At an altitude of about 5000 meters above sea level, the Chajnantor Plateau in Chile's Atacama Desert is one of the driest places on Earth. It's for this reason that it was chosen as the site for the Atacama Large Millimeter/submillimeter Array (ALMA) observatory, since less moisture in the air makes for clearer, more stable and more precise observations of the distant universe.
NEWS: Chile's Vanishing Patagonian Lake
Such an incredibly arid environment is also the cause of the penitentes, so named because of their resemblance to the white, pointed hats of the nazarenos, members of a brotherhood that hold annual Easter processions worldwide. It's thought that the ice deposits sublimate directly into the moisture-starved air, shaping around any surface variations and eventually forming a forest of hard, jagged structures anywhere from a few inches to 16 feet (5 meters) in height.
The photo above was taken along the side of the road that leads to ALMA by Babak Tafreshi, one of ESO's Photo Ambassadors. Read more here.
This story was provided by Discovery News.
Stay up to date on the latest science news by signing up for our Essentials newsletter.