Astronauts Spot Texas Wildfires From Space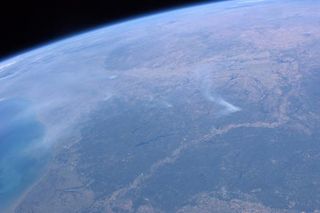 (Image credit: Ron Garan)
The wildfires burning in Texas are visible all the way from space, as seen in photos by astronauts on the International Space Station.
NASA astronaut Mike Fossum was particularly saddened to see the fires, because Bastrop State Park, one of the damaged areas, is a favorite spot of his.
Fossum asked Mission Control to update him about the fires, which have raged over thousands of acres in Central Texas during the past week. The fires are thought to have been spurred by winds from Tropical Storm Lee , which swirled over the Gulf of Mexico over the weekend and made landfall on the Gulf Coast.
"Did you guys confirm that the state park Bastrop is one of the directly affected areas with the fire in that region?" Fossum asked from space on Tuesday (Sept. 6). [Photos: Hurricane Irene Views From Space]
"Yes Mike, unfortunately that's true," capcom Jay Marschke replied from Houston. "The news agencies are reporting up to two-thirds of the park has been burned and hundreds of homes in the area have been destroyed."
Fossum, an "avid outdoorsman," according to NASA spokeswoman Nicole Cloutier-Lemasters, was stunned.
"Oh, wow," he said. "Wow, that's rough news. Thanks. We're really thinking about all those folks through there."
Fossum has experience as a scout leader and hiker, Cloutier-Lemasters said, and counts Bastrop State Park as one of his favorite hiking spots.
"Our thoughts and prayers are with those affected," Fossum wrote on Twitter, under the name @astro_aggie, Tuesday.
The Bastrop County Complex fire is now 30 percent contained. Texas, in the grip of one of the worst droughts in the states' history, has seen 3.5 million acres burn so far this year.
Fossum wasn't the only one in orbit affected by the news. His crewmate on the space station, Ron Garan, also tweeted about the fires. [Earth From Space: Amazing Photos by Astronaut Ron Garan]
"Prayers for those in harm's way," Garan wrote Tuesday under the name "Astro_Ron." Garan posted a series of photos of the fires from above, where wisps of gray smoke can be seen wafting away from our planet.
Garan and Fossum are currently living on the International Space Station along with one Japanese astronaut and three Russian cosmonauts. Garan was originally scheduled to return to Earth Sept. 8, but a Russian rocket failure has delayed his return to Sept. 15. Fossum is expected to fly back home in mid November.
You can follow SPACE.com senior writer Clara Moskowitz on Twitter @ClaraMoskowitz. Follow SPACE.com for the latest in space science and exploration news on Twitter @Spacedotcom and on Facebook.
Stay up to date on the latest science news by signing up for our Essentials newsletter.
Clara has a bachelor's degree in astronomy and physics from Wesleyan University, and a graduate certificate in science writing from the University of California, Santa Cruz. She has written for both Space.com and Live Science.