Too Cute! Lion Cubs Get First Checkup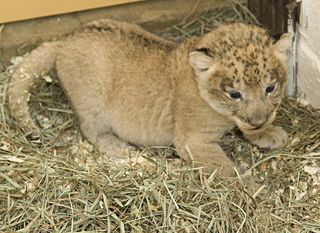 (Image credit: Mehgan Murphy, Smithsonian's National Zoo)
The three lion cubs born at the Smithsonian National Zoo this September received a clean bill of health this week during their first check up.
"We're happy to see that the cubs are growing and that each appears to be in good health," said Jessica Siegal-Willott, supervisory veterinarian at the zoo. "Naba has done a great job nursing them and we'll continue to monitor their development."
The veterinary team checked the cubs' mouths and eyes, listened to their hearts and lungs and felt their bellies. The cubs weigh between 7 and 8 pounds (3.2 to 3.7 kilograms).
They are still too young to receive vaccines and because of their age, animal care staff members continue to be cautiously optimistic, as cub mortality rate is around 30 percent.
Although it is difficult to determine the cub's sexes at such a young age when genitalia have not fully developed, at this time two of the cubs appear to be male and one appears to be female. In addition, vets checked up on Naba's sister Shera's four cubs, which were born three weeks before Naba's, and were all suspected to be female . They have now determined that one is in fact a male.
The animal care team will confirm the sex of Naba's three cubs in a month, at their next exam.
Male lion Luke, who recently turned five, is father to all seven cubs, and the most genetically valuable lion in the Association of Zoos and Aquariums' Species Survival Plan (SSP) for African lions, which seeks to ensure the genetic viability of zoo species.
"We're thrilled to have seven genetically valuable cubs that will grow up and go on to contribute to the continued genetic health of the Association of Zoos and Aquariums' Species Survival Plan," said Craig Saffoe, of the zoo's Great Cats Exhibit.
Stay up to date on the latest science news by signing up for our Essentials newsletter.