Zoo's Baby Lion Cubs Likely Female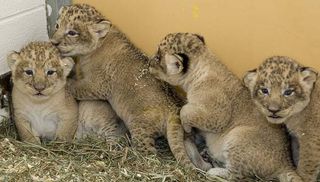 (Image credit: Mehgan Murphy, Smithsonian's National Zoo)
It's a girl! Or rather, four of them!
Four cubs recently born to African lioness Shera at the Smithsonian's National Zoo in Washington, D.C., appear to be female, zookeepers announced today.
The keepers gave the new cubs their first checkup Friday morning, and all seem to be healthy, they said during a live written web chat today. Further examinations will be needed to confirm for sure the sex of the cubs, keepers said.
The four as-yet-unnamed cubs were born Aug. 31, the first litter for five-year-old Shera, who mated with the zoo's four-year-old male lion, Luke.
"During their first check-up the cubs were weighed (about 7-8 lbs)," Rebecca Stites, one of two primary lion keepers at the zoo, said in the chat. "Our vet staff did an overall physical, inserted a microchip, and we shaved a small area on each so that we can identify them as individuals. All of the cubs had full bellies and appear to be in good health so far."
Shera's sister Naba, also a resident of the zoo, is pregnant as well and is expected to give birth soon. Luke will soon be the proud papa of another set of cubs.
"We are in the 'any day now!' stage," said Kristen Clark, the other primary lion keeper. Clark explained that the zoo doesn't have adequate facilities to do ultrasounds, so "Shera's four cubs were a happy surprise. Basically, we watch for the first cub to be born and continue watching for other cubs until we are fairly certain that the female has finished giving birth."
The young lions will likely stay at the zoo for about two years, until they are sexually mature and ready to be sent to other zoos for breeding.
"To keep them would put us in danger of inbreeding and we definitely don't want that," said Craig Saffoe, the zoo's curator of great cats.
It's the first time the National Zoo has lion cubs in 20 years, Saffoe said, and it marks a plan to build up a lion pride at the zoo.
"Our goal from the beginning of lion introductions was to build a pride comprised of Luke, Shera and Naba, with the intent of breeding them," Clark said. "We always intended to have the cubs become part of the pride. We will accomplish this through progressive, slow introductions between Shera and her cubs with Naba, and eventually to Luke."
Since these great cats are considered vulnerable in the wild, it's especially important to keep a healthy and genetically diverse population alive in zoos and breeding centers. The new cubs are a boon for this project, zookeepers said.
"Prior to this breeding Luke was the male in the country with the lowest mean kinship ranking (this means that he is extremely valuable genetically because he didn't have many — if any — living relatives in the population)," Saffoe said. "Naba and Shera also both had very low mean kinship numbers before these litters."
Clara Moskowitz is a Senior Writer for LiveScience, a sister site of OurAmazingPlanet.
This article was provided by OurAmazingPlanet, a sister site to LiveScience.
Stay up to date on the latest science news by signing up for our Essentials newsletter.
Clara has a bachelor's degree in astronomy and physics from Wesleyan University, and a graduate certificate in science writing from the University of California, Santa Cruz. She has written for both Space.com and Live Science.