Record-Warmth in the Desert Southwest into Early This Week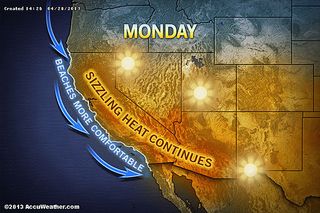 (Image credit: AccuWeather.com)
This article was provided by AccuWeather.com.
As the Eastern half of the country cools off following warmth over the weekend, the Southwest corner of the nation will remain a focus for sweltering conditions.
Temperatures will soar above the century mark across most desert and interior valley locations from Southern California to Arizona into the weekend.
Some of the hottest locations, such as Death Valley, Calif., will top out above 105 degrees each afternoon through Tuesday!
A bubble of high pressure aloft is responsible for this first round of triple digit heat.
The already hot weather in place will persist into early this week, allowing for record highs to be threatened in Needles, Calif., Phoenix, Ariz., and Las Vegas, Nev. on Monday.
It hasn't reached 100 degrees in Phoenix since October 4, 2012, and the atmosphere is primed to do so this afternoon and again on Monday.
All people, but particularly those sensitive to the heat, should take it easy over the next few days, and stay well-hydrated if venturing outdoors during the peak of the heat.
Below is a list of forecasted highs on Monday with the record high for the date listed for selected cities:
The good news for residents who are sensitive to the extreme heat is that there will be a slight cool down by Wednesday and Thursday as a big cold shot dives through the Plains.
Temperatures by Wednesday will fall back into the 80s in Las vegas with lower 90s in Phoenix and middle 90s in Death Valley. These temperatures are much more typical of this time of year.
AccuWeather.com. All rights reserved. More from AccuWeather.com.
The only sure thing about weather forecasts is that they're wildly different all over the planet. Test your knowledge on the wild ranges in temperature, precipitation and more.
Extreme Weather Facts: Quiz Yourself
Stay up to date on the latest science news by signing up for our Essentials newsletter.