Windswept Rain to Swing Through Boston Overnight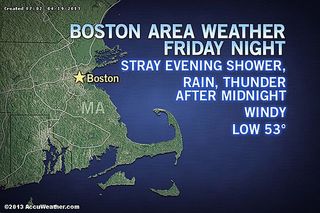 (Image credit: Accuweather.com)
This article was provided by AccuWeather.com.
A period of rain, accompanied by gusty winds, will sweep from west to east across New England and the Boston area overnight, where the manhunt is ongoing for the remaining suspect in Monday's Boston Marathon bombings.
On Friday, police were focusing the search in the western suburb of Boston, known as Watertown.
The timing of the rain squall, that can be accompanied by thunder and lightning, in Boston and its suburbs is between midnight and 6:00 a.m. EDT Saturday.
Downpours during the early morning hours Saturday could hamper the search in the area by bringing low visibility, brief urban flooding in some neighborhoods and raising the risk of hydroplaning for vehicles traveling at high speed.
There is an outside chance of a locally severe thunderstorm overnight that could bring damaging wind gusts and sporadic power outages.
A shower will also visit some areas of New England prior to the main swath of rain.
The balance of the weekend will feature dry and much cooler weather. Blustery conditions are in store Saturday with clearing. Less wind is in store for Sunday.
© AccuWeather.com. All rights reserved. More from AccuWeather.com.
Stay up to date on the latest science news by signing up for our Essentials newsletter.