Brush Fire Season Begins in the East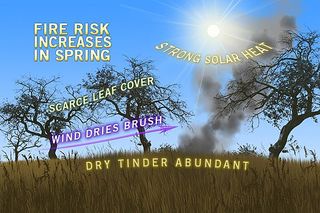 (Image credit: AccuWeather.com)
This article was provided by AccuWeather.com.
Most people don't think of spring as being a high-risk time of the year for brush fires, but April and May sometimes bring the perfect conditions.
The early spring offers plenty of fuel for brush fires: dormant grass, fallen leaves and dry brush.
The weather during the middle of the week may have been chilly, but very low humidity and strong sunshine warms and dries out the fuel.
There is an elevated risk of brush fires from Virginia to southern New England as most of this area is free of snow cover, green-up is slow in some areas and the brush has become dry.
RELATED: Cold Rain to Brush Coastal Northeast Thursday Night, Friday Warm versus Cold Next Week in the Northeast
Be very careful using outdoor power equipment in these conditions.
Do not toss burning cigarettes out of your car.
Avoid parking vehicles on dry, grassy areas as the hot exhaust can ignite the brush underneath.
A storm system will bring higher humidity and even some rain to part of the mid-Atlantic and southeastern New England Thursday night into Friday, which will lower the risk.
However, over the weekend, rising temperatures and some sunshine will raise the risk especially in areas, where there is no snow on the ground and the rainfall managed to stay away recently.
© AccuWeather.com. All rights reserved. More from AccuWeather.com.
With much of the country experiencing an unseasonably warm winter, fears of climate change come to mind. See how well you understand recent weather, climate and the difference between them.
Weather vs. Climate Change: Test Yourself
Stay up to date on the latest science news by signing up for our Essentials newsletter.