Midwest, Northeast to Endure Cold Waves Well into April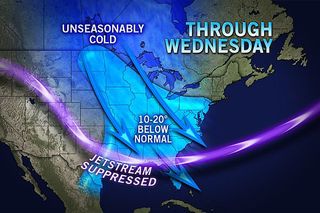 (Image credit: AccuWeather.com)
This article was provided by AccuWeather.com.
While April will not be as cold as March, thanks to the strengthening sun, pockets of cold air will continue their invasion from the northern Plains to the Midwest and Northeast into the first half of the month.
As we progress through spring, warmth is highly dependent on sunshine. Through the first half of April, most of the northern tier states should bag more sunny days, compared to the first four weeks or so of March.
However, the overall weather pattern into the first part of April will continue to run about a month or so behind schedule. March behaved a lot like a typical February, and it appears the first half of April will be what March should have been like.
According to Expert Senior Meteorologist Brett Anderson, "The pattern into the first half of April or so still favors blocking to some extent."
Anderson is referring to the configuration of strong winds high in the atmosphere, known as the jet stream. The blocking limits the general west to east movement of weather systems.
"The jet stream appears as though it will continue its antics of large southward dips, known as troughs, and northward bulges, known as ridges, "Anderson stated, "Occasionally these dips will break off from the main jet stream forming closed-off lows."
These closed-off lows represent a large puddle of cold air high in the atmosphere. The weather produced can range from strings of chilly, unsettled days with clouds and showers or days where it starts off sunny but yields to towering clouds and thundershowers with hail.
Once in a while, these lows can bring heavy wet snow to a small area from the Plains to the East Coast and continue to produce bouts of lake-effect snow around the Great Lakes to the central Appalachians.
RELATED: More Snow, Cold Weather Despite Spring Growing Season 2013 Outlook: Better for Corn
So while the weather moving through the first half of April will bring some warm, sunny days, these could still be outnumbered by days with clouds, showers and chilly conditions.
Even in parts of the South, a few outbreaks of chilly air are possible.
In short, spring will continue to evolve slowly. In some cases, it could be six to eight weeks behind what it was last year at this time.
Spring is often a chaotic time of the year in terms of weather, but with the pattern remaining around this year there is the potential for very dramatic weather changes from day to day.
Even in an average spring, the challenge of hitting temperatures on the mark a few days in advance can be challenging. This spring will be especially challenging. One thing to keep in mind is that normal temperatures trend upward markedly. What may be a mild day now may be considered chilly a couple of weeks from now in the realm of normal average temperatures.
During the second half of April, AccuWeather.com long-range meteorologists expect the atmosphere to start to behave more like the calendar from the northern Plains to the Northeast.
According to Long Range Weather Expert Paul Pastelok, "The number of episodes of cold air should gradually fade away during week three and four of April with temperatures and the weather pattern finally trending toward normal."
As a consolation, a brief wedge of warmer air (relatively speaking) will build over the central states and shift eastward over the Easter weekend, prior to a wave of cold air with wind.
Flooding Concerns Addressed
The combination of the frequent chilly outbreaks, combined with strengthening sunshine will generally work against major flooding events in most areas. The pattern will allow a gradual thaw by day and a freeze-up at night.
However, because the snow cover will not rapidly dissipate on its own, such as over the northern Plains, Upper Midwest and in northern New England, there is some risk of flooding, providing a storm with heavy rain rolls in.
The geographical setup of the Red River (over the northern Plains/Upper Midwest) is a perennial trouble spot. It flows northward from warmer to colder climate zones.
AccuWeather.com meteorologists and National Weather Service hydrologists will be keeping an eye on the potential for this well into the spring.
AccuWeather.com will be releasing more information on the outlook for flooding this spring during this week.
© AccuWeather.com. All rights reserved. More from AccuWeather.com.
With much of the country experiencing an unseasonably warm winter, fears of climate change come to mind. See how well you understand recent weather, climate and the difference between them.
Weather vs. Climate Change: Test Yourself
Stay up to date on the latest science news by signing up for our Essentials newsletter.