Midwest, Northeast March Snowstorm Breaks Records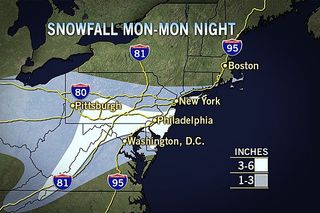 (Image credit: AccuWeather.com)
This article was provided by AccuWeather.com.
A snowstorm that will impact much of the Northeast Monday through Monday night is responsible for many cities record-breaking daily snow totals for the month of March.
The snow total for St. Louis, Mo., on Sunday was 12.4 inches, breaking the city's old record of 12.1 inches set in 1912.
Lincoln, Ill., broke their daily snow total of 4 inches which was set in 1947 with 10.8 inches of snow on Sunday.
As the storm moved through Columbus, Ohio, a record of 2.9 inches, reported at the airport, broke the old record of 1.8 inches set in 1965.
Although record-breaking snow didn't happen in some cities, there were some impressive snow totals in Ohio associated with the snowstorm. Newtown Falls received 3 inches, Marion received 5.2 inches and 4.9 inches was reported in Delaware.
Minimal snow was reported in Columbus, Ohio, as of early Monday morning.
Washington, D.C., also had notable accumulation. The city received its first inch of snow in the city during the month of March since 2011 due to this storm system.
Less than a half of an inch of snow was reported to be still on the ground in D.C. on Monday morning.
Travel delays also were reported with this storm. Flight delays were reported at the Philadelphia International Airport, Newark Liberty International Airport, Baltimore/Washington International, Reagan International Airport and Cleveland-Hopkins International Airport early Monday morning, according to FlightAware.com.
Snow will continue to fall Monday night into Tuesday morning for the mid-Atlantic coast. New England is expected to be only grazed by the storm, escaping substantial snow totals.
© AccuWeather.com. All rights reserved. More from AccuWeather.com.
The weather is getting stranger, right? Well, for the most part no, scientists say, but humans often think so when a strange event does occur. So here's your chance to prove how much you known about weather oddities.
Weird Weather: One Strange Quiz
Stay up to date on the latest science news by signing up for our Essentials newsletter.