Supercluster of Galaxies Space Wallpaper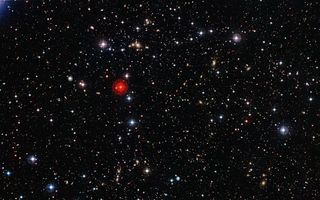 (Image credit: ESO)
This space wallpaper shows a deep-field image of what is known as a supercluster of galaxies — a giant group of galaxy clusters which are themselves clustered together. This one, known as Abell 901/902, comprises three separate main clusters and a number of filaments of galaxies, typical of such super-structures. One cluster, Abell 901a, can be seen above and just to the right of the prominent red foreground star near the middle of the image. Another, Abell 901b, is further to the right of Abell 901a, and slightly lower. Finally, the cluster Abell 902 is directly below the red star, towards the bottom of the image. This image was released Jan. 28, 2013.
Stay up to date on the latest science news by signing up for our Essentials newsletter.
Space.com is the premier source of space exploration, innovation and astronomy news, chronicling (and celebrating) humanity's ongoing expansion across the final frontier. We transport our visitors across the solar system and beyond through accessible, comprehensive coverage of the latest news and discoveries. For us, exploring space is as much about the journey as it is the destination.